N.B. Chicago Blues is FINALLY available as an ebook… at all the usual suspects! You can find it at Amazon, B&N, iBooks, and Kobo. Or buy direct from Libby. On international sites too.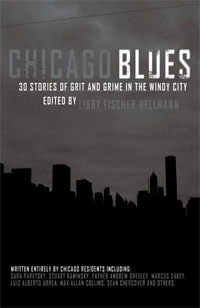 Featuring stories by Sara Paretsky, Stuart Kaminsky, Barbara D'Amato, Max Allan Collins, Marcus Sakey, Sean Chercover, Michael Black, J.A. Konrath, Libby Fischer Hellmann, and others
Blue is the new noir, and nobody does Blues like Chicago. This collection of dark stories, from today's best Chicago crime fiction authors, captures the depths to which people sink when they run out of options. The emptiness and pain spawned by greed. The violence—or occasionally, the bittersweet redemption—that springs from a broken heart.
Praise for CHICAGO BLUES:
"A monument in words to this funky, mysterious and eternal American city… a fine collection."
—Luis Alberto Urrea, author, The Hummingbird's Daughter
"Extraordinary… Chicago Blues is a splendid bedside book, to be enjoyed for a long time."
—Chicago Tribune [read full review]
"Classy… This impressive volume has soul, grit and plenty of high notes…"
—Publishers Weekly

"Twenty-one excellent reasons to stay out of the Windy City…"
—Kirkus Reviews [read full review]
"A strong sense of place, layered characters, and evocative prose…"
—Chicago Sun-Times
"Gritty, excellent… has my highest recommendation!"
—Midwest Book Review
"An impressive group of stories… an amazing group of authors…"
—Crimespree Magazine
CHICAGO BLUES was named the "pick of the week" by both Crime Fiction Dossier and January Magazine!
"A solid anthology of crime stories… the batting average of CHICAGO BLUES is definitely higher than most."
—Crime Fiction Dossier [read full review]
"A collection with big shoulders…"
—January Magazine
"What a gem this collection written entirely by Chicago authors is…"
—Barbara Peters, Poisoned Pen Staff Recommendations