A Personal Message from Libby: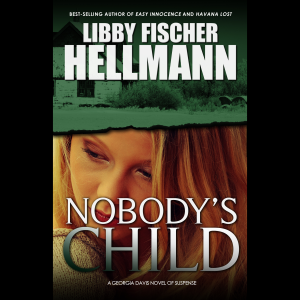 Hi. I'm Libby Hellman and I write crime fiction. I'm very excited to tell you that my 11th book has just come out. It's called Nobody's Child – this is it – it's the 4th installment in my Georgia Davis series.
It's a very personal book for Georgia. She discovers that she just might have a sister she didn't know about. And that's just the beginning. It's available in paperback, audio, and ebook, and some of the early reviews are excerpted below – they're lovely. The links are there too, so I really hope you check it out.
Thank you. Happy Reading.
And here are some review snippets from Goodreads Readers:
"Libby reeled me in. I finished the book in one sitting." Charlene 
"Nobodys Child is well written, exciting & beautifully layered." Jean 
"I give all books 50 pages to hook me, before I knew it I was half way through the book." Maureen
"She's a very professional author who consistently delivers solid entertainment." Rory 
"The characters are well-crafted. You really care about (or despise) them." Kristy
"I was so sorry to see the last page because I knew it will be another couple of years, at least, before I will be able to spend time with Georgia again." Kathy
Nobody's Child is available as an ebook, paperback, and audio.
It's also available as an ebook on Overdrive, and in print from Ingram. I'd be delighted if you asked your library to order it.