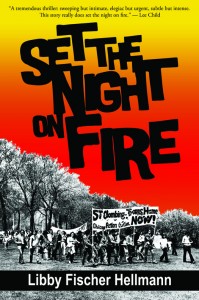 A winter book for the winter season, SET THE NIGHT ON FIRE is a stand-alone thriller that goes back, in part, to the late Sixties in Chicago. Best of all, it's just 99 cents all week at Kindle and Nook.
Someone is trying to kill Lila Hilliard. During the Christmas holidays she returns from running errands to find her family home in flames, her father and brother trapped inside. Later, she is attacked by a mysterious man on a motorcycle. . . and the threats don't end there. As Lila desperately tries to piece together who is after her and why, she uncovers information about her father's past in Chicago during the volatile days of the late 1960s . . . information he never shared with her, but now threatens to destroy her. Part thriller, part historical novel, and part love story, Set the Night on Fire paints an unforgettable portrait of Chicago during a turbulent time: the riots at the Democratic Convention . . . the struggle for power between the Black Panthers and SDS . . . and a group of young idealists who tried to change the world.
"A tremendous book – sweeping but intimate, elegiac but urgent, subtle but intense. This story really does set the night on fire." –Lee Child
"A brilliantly-paced thriller, transitioning seamlessly from modern-day Chicago to the late '60s. First-rate characterization…Best to start early in the day, as it is easy to stay up all night reading it." –Foreword Magazine
"RT Top Pick for December: "Electric… a marvelous novel."
–RT Book Reviews
"Set the Night on Fire is a compelling story of love, truth and redemption. This will be a break-out novel for this talented writer. Highly recommended." –Sheldon Siegel, NYTImes bestselling author of Perfect Alibi
"A top-rate thriller that taps into the antiwar protests of the 1960s… A jazzy fusion of past and present, Hellman's insightful, politically charged whodunit explores a fascinating period in American history."
–Publishers Weekly
Again, you can find it here. And here.