Reviews for Libby Fischer Hellmann's Novels
Nobody's Child (2014)
A bloodstained note left for Chicago PI Georgia Davis reveals the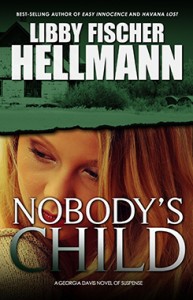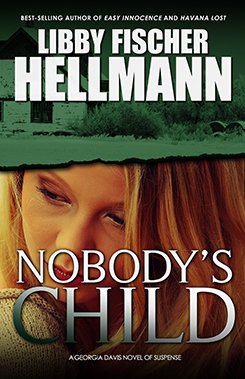 shocking existence of a half-sister she never knew about. That sister, Savannah, is pregnant and begging for Georgia's help.Determined to track her down, Georgia finds herself heading deep into the dangerous underworld of Chicago's illegal sex trafficking business. She soon discovers that trafficking is just a small part of the horrifying and deadly situation in which her new sister is caught up. Even worse, as Georgia tries to extricate Savannah, she comes up against an old enemy determined to make sure neither woman will escape alive. In the fourth novel of the Georgia Davis series, she faces her toughest challenge yet—and one she might not survive.
 Havana Lost (2013)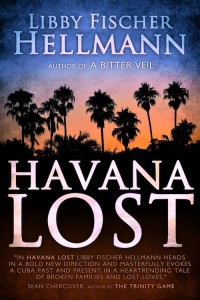 On the eve of the Cuban Revolution, headstrong 18-year-old Francesca Pacelli flees from her ruthless Mafia-boss father in Havana to the arms of her lover, a rebel fighting with Fidel Castro. Her father, desperate to send her to safety in the US, resorts to torture and blackmail as he searches the island for her. HAVANA LOST is award-winning author Libby Fischer Hellmann's tenth novel and third thriller that explores how strife and revolution affect the human spirit. HAVANA LOST is a testament to Hellmann's gift for authentic historical detail as well as her talent for writing compulsively readable thrillers.
A riveting historical thriller… This multigenerational page-turner is packed with intrigue and shocking plot twists.
Booklist
A many-layered adventure…smart writing, done in accomplished style by an author who never talks down to her readers.
Mystery Scene Magazine
A cautionary tale… great historical detail… interesting story, ambitious, enjoyable!
RT Book Reviews
"Masterfully crafted…Hellmann has a superb gift for the colorful depiction of her characters. I can't imagine any noir aficionado not enjoying Havana Lost.
aliteraryreeder blog
Hellmann's writing has matured considerably since her early novels. Her plotting has become more solid and assured, her characters more realistic, her settings wonderfully described. This is a fine, extremely well told novel.
Deadly Pleasures
Libby Fischer Hellmann is already an icon of the Chicago mystery scene. In HAVANA LOST she heads in a bold new direction and masterfully evokes a Cuba past and present in a heartrending tale of broken families and lost loves.
Sean Chercover, author of THE TRINITY GAME
In Havana Lost, Libby Hellmann offers readers a literary tour de force. It's a story lush with the details of another place and time—Cuba on the cusp of revolution and after—and full of lovers whose stars are tragically crossed with the complicated politics of the cold war. The writing in this thriller will take your breath away.
William Kent Krueger, author of ORDINARY GRACE and the Cork O'Connor series
Libby Hellmann is a master at crafting an engrossing read. HAVANA LOST is exceptional; the novel intrigues you from the get-go and keeps you turning pages 'til the last.
Heather Graham, author of the Krewe of Hunters series
HAVANA LOST is an engrossing tale of love, betrayal and revenge that spans three generations of remarkable women. Libby Fischer Hellmann beautifully captures the scents sounds and feel of Cuba before and after the revolution.
Zoe Sharp, author of the Charlie Fox thriller series
HAVANA LOST has it all—a tropical thrill ride that never lets up and a love affair for the ages! I loved it!
Joel Goldman, Author of the Alex Stone and Lou Mason thrillers
A sweeping saga exploring a fascinating event and its impact on future generations.
CJ Lyons, New York Times Bestselling Author
A Bitter Veil (2012)
Anna and Nouri, both studying in Chicago, fall in love despite their very different backgrounds. Anna, who has never been close to her parents, is more than happy to return with Nouri to his native Iran, to be embraced by his wealthy family. Beginning their married life together in 1978, their world is abruptly turned upside down by the overthrow of the Shah, and the rise of the Islamic Republic.
Under the Ayatollah Khomeini and the Republican Guard, life becomes increasingly restricted and Anna must learn to exist in a transformed world, where none of the familiar Western rules apply. Random arrests and torture become the norm, women are required to wear hijab, and Anna discovers that she is no longer free to leave the country.
As events reach a fevered pitch, Anna realizes that nothing is as she thought, and no one can be trusted… not even her husband.
Hellmann crafts a tragically beautiful story around a message that is both subtle and vibrant. The author does an amazing job of delivering her point but never by sacrificing the quality of her storytelling. Instead, the message drives the psychological and emotional conflict painting a bleak and heart-wrenching tale that will stick with the reader long after they finish the book.
Bryan VanMeter, Crimespree Magazine
The Iranian revolution provides the backdrop for this meticulously researched, fast-paced stand-alone… A significant departure from the author's Chicago-based Ellie Foreman and Georgia Davis mystery series, this political thriller will please established fans and newcomers alike.
Publishers Weekly
Readers will be drawn in through the well-researched inside look at Iran in the late 1970s and gain perspective on what the people in that time and place endured. A Bitter Veil is so thought-provoking that it especially would be a great title for book clubs to discuss.
Amy Alessio, BookReporter.com [Read full review]
Certainly there have been other books written about this time and place in history, but A Bitter Veil is one of the best.
Caryn St. Clair, Bestsellersworld.com
Well-drawn characters have always been a hallmark of Hellmann's writing, and here she's as strong as usual… [a] suspenseful, well-researched book.
—Betty Webb, Mystery Scene Magazine
Toxicity (2011)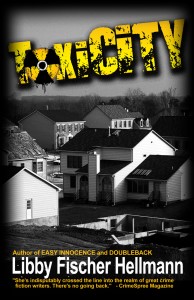 Ten years before Easy Innocence, PI Georgia Davis was a police officer on the force in a Chicago suburb. And while homicides are rare on the North Shore, three bodies turn up in quick succession—all of them dumped in waste disposal dumpsters or landfills. The investigations into the murders test the mettle of the police. They also test the strength of Georgia's relationship with one of the detectives working the case. A dark police procedural and thriller, Toxicity is a prequel to the Georgia Davis PI series (Easy Innocence and Doubleback).
Toxicity is as gritty as it is spellbinding. With fully-realized characters…Toxicity draws the reader inexorably into a web of deceit, heart-crushing loss, and righteous fury… A stunning and satisfying conclusion.
J. Carson Black, best-selling author of The Shop and Darkness on the Edge of Town
Anybody that loves police procedurals written tautly, with grit and a healthy dose of noir, will love this one…her Georgia Davis series may just be one of the best crime thriller series being written today.
The Seattle Post-Intelligencer
Lovers of Hellmann's novel, Easy Innocence, will enjoy learning how heroine Georgia Davis survived her Chicago cop rookiehood.
Chicago Tribune
I was blown away once I began reading. The author's style is fast paced and exciting. I literally couldn't put the book down… Think CSI meets Erin Brockovich…
F. Murrell
Hellmann has written much more than a page-turner… writes with the economy and emotional punch of classic crime novelists like Lawrence Block. And she has created a perpetrator who is complex, realistic and completely unexpected…
Peg Rorbarchek
The Last Page: A Novella (with David J. Walker) (2011)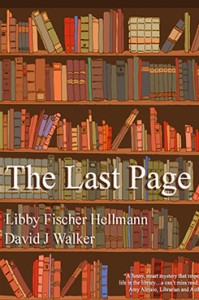 Barbara Adams, head of the Windbrook Library in suburban Chicago, has died, apparently from a fall down the stairs of the library's basement. But when Julia Fairbanks, her closest friend's daughter starts to poke around, she finds troubling emails that indicate Barbara was not the victim of a heart attack, but a vicious killer instead. Can Julia find the murderer? Or will she end up on The Last Page? This is a novella, approx. 20,000 words. It also includes two short stories by the authors, both from the acclaimed crime fiction anthology, Chicago Blues.
A funny, smart mystery that respects life in the library… a can't miss read…
Amy Alessio, Librarian and Author
The action moves along at a fast clip and I didn't want to put it down. Characterization is good and I wish I could read more about these people.
Cheryl Battin
As someone who has worked in a library for way too long, how could I pass up a mystery that features the murder within a library… of a librarian? All readers, though, will enjoy this fast and fun mystery.
Cindy Chow
Set the Night on Fire (2010)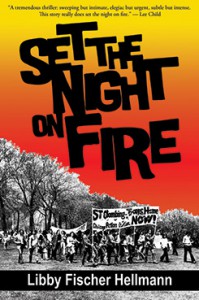 Someone is trying to kill Lila Hilliard. During the Christmas holidays she returns from running errands to find her family home in flames, her father and brother trapped inside. Later, she is attacked by a mysterious man on a motorcycle… and the threats don't end there. As Lila desperately tries to piece together who is after her and why, she uncovers information about her father's past in Chicago during the volatile days of the late 1960s… information he never shared with her, but now threatens to destroy her. Part thriller, part historical novel, and part love story, Set the Night on Fire paints an unforgettable portrait of Chicago during a turbulent time: the riots at the Democratic Convention… the struggle for power between the Black Panthers and SDS… and a group of young idealists who tried to change the world.
A tremendous book—sweeping but intimate, elegiac but urgent, subtle but intense. This story really does set the night on fire.
Lee Child
A brilliantly-paced thriller, transitioning seamlessly from modern-day Chicago to the late '60s. First-rate characterization… Best to start early in the day, as it is easy to stay up all night reading it.
Foreword Magazine
Haunting… Rarely have history, mystery, and political philosophy blended so beautifully… could easily end up on the required reading list in college-level American History classes.
Betty Webb, Mystery Scene Magazine
A top-rate thriller that taps into the antiwar protests of the 1960s… A jazzy fusion of past and present, Hellman's insightful, politically charged whodunit explores a fascinating period in American history.
Publishers Weekly
Doubleback (2009)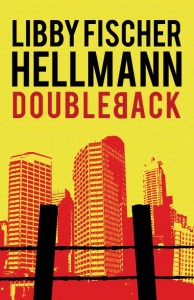 Little Molly Messenger is kidnapped on a sunny June morning. Three days later she's returned, apparently unharmed. A few days later, the brakes go out on Molly's mother's car.
An accident? Maybe. Except that it turns out that Molly's mother, the IT manager at a large Chicago bank, may have misappropriated three million dollars. Molly's father hires PI Georgia Davis to follow the money and investigate Chris's death.
Doubleback reunites PI Georgia Davis (Easy Innocence) with video producer Ellie Foreman (An Eye For Murder, A Picture Of Guilt, An Image Of Death, A Shot To Die For). The two women track leads from Northern Wisconsin to an Arizona border town, where illegal immigrants, smuggled drugs, and an independent contractor come into play. While Georgia and Ellie go to great lengths to find the truth, Georgia discovers that you can cross a line, but sometimes you have to double back.
Doubleback was chosen by the Great Lakes Bookseller Association as their Autumn, 2009 "Great Lakes Great Read".
Teaming up two strong, intelligent lead characters makes for a rich, suspenseful story in Libby Fischer Hellmann's Doubleback.
Oline Cogdill, Mystery Scene
Hellmann's new book is one tough cookie. She has combined her two protagonists into a strong and moving novel. Others have done this; with Doubleback, Hellmann proves she can stand up to peer pressure.
January Magazine, The Rap Sheet, Dick Adler
Libby Hellmann knows how to reel in a reader, and she does it expertly in Doubleback. One of the tensest opening scenes ever written is just the introduction to a true puzzler of a thriller.
Tess Gerritsen, NYT Bestselling author of The Keepsake
Doubleback moves with twists, insightful juxtapositions, and many layers. Hellmann doesn't need to 'doubleback.' She's indisputably crossed the line into the realm of great crime fiction writers.
Crimespree Magazine
Doubleback is a high-octane rocket ride through ripped-from-the-headlines issues and across the country… Let's hope we see much more of the tough-as-nails PI Georgia Davis and her relentless partner Ellie Foreman.
C.J. Box, author of Below Zero
Easy Innocence (2008)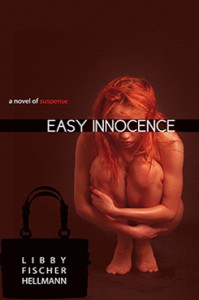 When pretty, smart Sara Long is found bludgeoned to death, it's easy to blame the man with the bat. But when Georgia Davis—former cop and newly-minted PI—is hired to look into the incident at the behest of the accused's sister, and what she finds hints at a much different, much darker answer. It seems the privileged, preppy schoolgirls on Chicago's North Shore have learned just how much their innocence is worth to hot-under-the-collar businessmen. But while these girls can pay for Prada pricetags, they don't realize that their new business venture may end up costing them more than they can afford.
Hellmann brings to life the reality of bullying among teenage girls with enough twists and turns to keep you reading. Highly recommended.
Library Journal (Starred Review)
Just what's needed in a mystery… Depth of characterization sets this new entry by Hellmann (A Shot to Die For, 2005, etc.) apart from a crowded field.
Kirkus Reviews
There's a new no-nonsense female private detective in town: Georgia Davis, a former cop who is tough and smart enough to give even the legendary V.I. Warshawski a run for her money.
Chicago Tribune
This was a book I could not put down, reading it cover to cover during the course of one day. The reader is drawn into the story immediately, and the wonderful writing makes the characters come alive.
Midwest Book Review
A Shot to Die For (2005)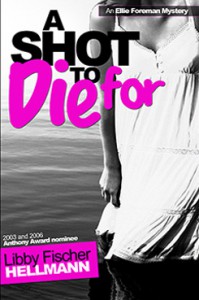 In this fourth title in the Ellie Foreman mystery series, the Chicago documentary filmmaker finds herself in Lake Geneva, Wisconsin. Returning from a video shoot at the Lodge, a newly renovated, upscale resort, Ellie befriends a woman who claims her ride abandoned her at a highway rest stop. But Ellie's kindness is brutally cut short when a pickup truck pulls up, the rear window opens, and the woman is shot dead. Even with her history of sleuthing, Ellie is not eager to get involved. Then the victims's family arrives and begs for information. When the second shooting occurs, Ellie decides to poke around on her own. She is soon drawn into the history of a wealthy and prominent family, deeply rooted in a magnificent mansion on the shores of the lake, and surrounded by an elaborate web of lies, murder, and family secrets that have plagued both them and the town for years—secrets that now place Ellie in the crosshairs of a killer.
Winner, Readers' Choice Award for Best Traditional Novel (Love is Murder conference)
Libby Fischer Hellmann has already joined an elite club: Chicago mystery writers who not only inhabit the environment but also give it a unique flavor…
Chicago Tribune
Hellmann reaches the next level with her latest mystery novel…
Chicago Sun-Times
The best one yet… has me itching for the next book.
Midwest Book Review
An Image Of Death (2004)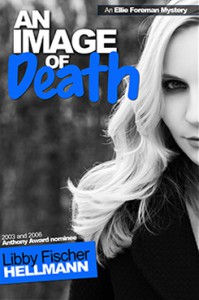 Who knew that a career in video documentaries could lead to crime? Such is the fate of Chicago's Ellie Foreman whose shoots hook her up with misdeeds past and present. Here she is producing a video about foster children that's being financed by a successful Chicago real estate developer. Her plans get thrown for a loop when a mysterious package appears at her door one winter night. Inside she finds a surveillance video showing the murder of a young woman. Who was this woman and what is her connection to Ellie? The cops shunt her aside, but the urgency she feels to find answers, coupled with her professional knowledge of film, compel her to sleuth despite the difficulties borne from a complex history with her lover, David. A little digging reveals that the murder victim was a courier with a dark history forged in Eastern Europe at the time of the Soviet Union's collapse. And a little more digging reveals dark happenings here at home, money laundering, and the deadly price of dealing in diamonds…
A powerful tale… Foreman's pluck and grit married to Hellmann's solid storytelling should win a growing audience…
Publishers Weekly
A compelling group of believable characters… plausible and engrossing. Highly recommended, even if you don't live in Illinois…
Chicago Sun-Times
A smashing addition to the series…
Midwest Book Review
A Picture of Guilt (2003)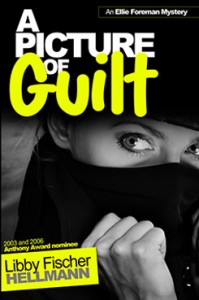 The big news story in Chicago is the murder trial of Johnny Santoro, a dock worker whose girlfriend has been killed. Most Chicagoans are betting on a quick guilty verdict, but Ellie Foreman has doubts about his complicity—Santoro is strangely familiar to her. Checking back to the outtakes of a video project in progress while the murder took place, Ellie finds evidence that could save Santoro from a lifetime behind bars. It seems the perfect alibi, but the tape is compromised by radio interference and Santoro goes to jail. Almost immediately, Ellie's world begins to shift: a suspicious vehicle follows her, the Chicago mob shows up, and the FBI wants to question her. She doesn't have answers, but she has questions of her own about the radio transmissions. Everything indicates that someone wants something from her, something bigger than the Santoro case. If only she could figure out what it is…
Finalist, Ben Franklin Award for Mystery/Suspense
Winner, Readers' Choice Award for Best Traditional Novel (Love is Murder conference)
Smart and exciting… Hellmann knows what people are willing to die for and that knowledge makes her work shine.
Dick Adler, Chicago Tribune
Hellmann owes debts to Paretsky and D'Amato, but she's the brash young thing making this formula new again.
Aunt Agatha's
Hellmann has surpassed herself. Well-crafted, intense and exciting, right up to the last page… a must read!
Midwest Book Review
An Eye For Murder (2002)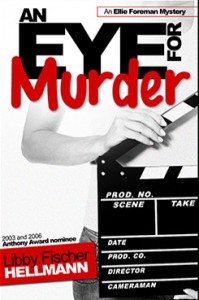 August, 1944, Prague is where the story begins with a seemingly casual exchange. But in wartime, is any act, any one thing, trivial? Decades later, in contemporary Chicago, the consequences emerge through the medium of television. Documentary filmmaker Ellie Foreman gets a letter prompted by the success of her show "Celebrate Chicago." One viewer was the elderly Ben Sinclair. When he suddenly dies, his landlady Mrs. Fleischman finds Ellie's name among his effects and writes to her. Ellie, who hasn't a clue about a connection to Ben, is curious. And she agrees to help dispose of Ben Sinclair's possessions. She became a filmmaker to help people tell their stories. The books and wartime relics Ben left behind—will they be enough to tell his? All too soon, Mrs. Fleischman dies. Then Ben's things are stolen from Ellie's suburban home. The single mom, working to move past her ex, doesn't know what to think. But she has to scramble for work and is soon embroiled in producing a campaign video for a steel magnate running for a Republican seat in the Illinois Senate. Despite these distractions, Ellie stays focused on her odd link to the dead man and turns to her father, a retired lawyer with deep roots in Chicago's Jewish community, for insights into the mystery of Ben Sinclair. In time, a terrifying scenario develops that reaches back into several pasts. From the political present of the North Shore to the buried memories of the city's ethnic neighborhoods, the components of Ben's story eventually merge into an explosive climax. An Eye for Murder is the sequel to the author's award-winning short story "The Day Miriam Hirsch Disappeared."
Nominee, Anthony Award for Best First
Winner, Readers' Choice for Best First Novel (Love is Murder conference)
A masterful blend of politics, history, and suspense…
Publishers Weekly
A clever blend of thrills and humor… Hellmann has created a compelling group of believable characters…
Chicago Sun-Times
Complicated… fascinating… Hellmann has a beautifully tuned ear…
Chicago Tribune