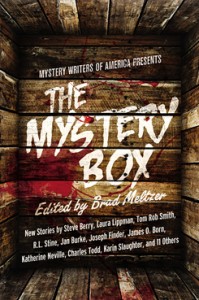 I am delighted to announce the release of "The Mystery Box" anthology released by MWA (Mystery Writers of America) today. I am even more delighted to say that my story, "War Secrets," is in it. It has—well—an unusual backstory.
I was casting around for an idea—the anthology's premise is "Secrets," which lends itself to a host of fascinating concepts. At the time I had just published  A BITTER VEIL, which tells the story of Anna Schroeder, a young student in Chicago, who meets Nouri Samedi, an Iranian engineering student. They fall in love, marry, and move to Tehran. However, the story takes place in 1978, and four months after Anna relocates, the shah is deposed. A BITTER VEIL depicts the brutality and loss of freedom under Ayaltollah Khomeini and the Islamic Republic, and ultimately Anna is forced to escape. She does so with the help of her German father, who was at one time a member of the Nazi party, and a Kurdish Jew from the north of Iran.
I purposely did not explain the connection between the two men in VEIL; it's what we call in the business a "loose end." But I saw an opportunity to explore that relationship in "War Secrets," which is set in Nazi Germany during the 1930's.
Of course, "War Secrets" had to stand on its own to be included in the anthology, so I discovered not one, but two secrets held by the two major characters. One of the characters is physicist Erich Schroder who works in a lab in Leipzig. The other is Davood Sarand, a young Kurd who snags a privileged position in Schroder's lab. Davood is a closeted Jew, at least until he falls in love with Julia, a German Jew. But Erich Schroder uncovers his own secret, which he elects not to pursue in the era of Deutsche Physik,  also called "Aryan Science." Schroder is Anna's father, and Davood is the son of the man who helps Anna escape Iran.
As writers, we learn that conflict is the most important ingredient in fiction, and I can't think of a more extreme conflict than that imposed by war or revolution. The strife and stress turns some people into heroes, others into cowards. It's not just individuals who are affected; families, communities, often entire cultures are tested, some irreversibly. That's why I am continually drawn to settings like Nazi Germany or, say, the Iranian revolution, for inspiration.
Thus, "War Secrets" became not only a short story about secrets and their consequences during a time of extreme conflict, but also the "prequel" to A BITTER VEIL.
"The Mystery Box" Anthology was edited by noted thriller author Brad Meltzer, and includes stories by Joseph Finder, Laura Lippman, Karin Slaughter, R.L. Stine, and Jan Burke. among others.
It was just released today. Enjoy!
PS "Writing Lite" will be back next week.