So the holidays are now in full swing. For some it's your favorite time of year. For others, it's a few weeks to be endured.
In 2013 I ran a list of Binge-Watchable shows that are deliberately NOT about the holidays. I did that for those of you who want a respite from the holiday hustle and bustle and stress. If you're new to my blog, do take a look at that column. All the shows are still available.
This time, though, I'm going to share my all-time favorite holiday films. Don't worry – Miracle on 34th Street and It's A Wonderful Life aren't on the list. The ones on my list are all relatively recent, and most are family friendly. Plus, they're generally cheerful, not insipid, and some of them are dead-to-rights funny. They'll take the edge off anyone's holiday stress. Promise. And they're all available on Netflix, Amazon, or the public library. If you're a library patron, reserve them today.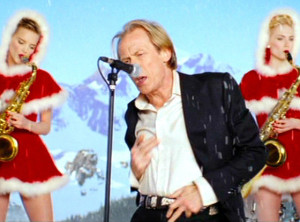 Love Actually
This is my go-to movie during the holidays. I never get tired of watching these delightful interwoven stories about couples who do or don't find love over the holidays. Whether it's Bill Nighy relaunching his career with a raunchy holiday version of "Love is All Around You;" Prime Minister Hugh Grant falling for his working class assistant, Natalie; Colin finding love in Wisconsin; or Emma Thompson and Alan Rickman facing the truth about their marriage, Love Actually has something for everyone. And those are only half the vignettes. Each one is captivating. And the last scene, with the multiplying split screens and the Beach Boys singing "God Only Knows" still makes me smile. This is a don't miss movie.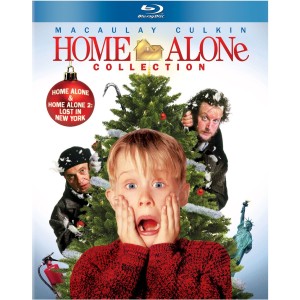 Home Alone
Another Christmas classic, Home Alone, stars the young Macaulay Culkin in a John Hughes produced movie shot in Chicago (my home town). By accident he is left at home while the rest of the family goes to Paris for Christmas. Initially he enjoys being alone, eating what he wants, dancing with a cut-out of Michael Jordan, and pretending to shave. But then two burglars show up, played by the wonderful Joe Pesci and Daniel Stern. What ensues is a riot of unbelievable scenarios, laughs, and even slapstick as Kevin (Culkin) defends his home. As of 2009, Home Alone was the highest grossing comedy of all time. It is a not-to-be-missed family holiday event.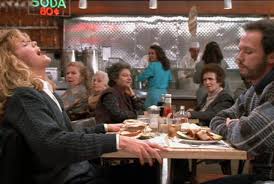 When Harry Met Sally
It's hard to believe this film is twenty-five years old! Nora Ephron wrote and Rob Reiner directed Billy Crystal and Meg Ryan in a romantic comedy about two friends who, over a twelve year relationship, explore the question of whether a man and a woman can ever be "just friends." If you've seen it, you know the answer. It's not a holiday movie per se, but the important scenes take place on two consecutive New Years' Eves, so I'm including it. The cast, with Carrie Fisher and Bruno Kirby are delightful, Meg Ryan is pre-face lift adorable, and Estelle Reiner, Rob's mother has the best line in the movie. Btw, apparently, the entire scene in Katz's Deli was suggested by Billy Crystal, and "improvised" by Meg Ryan. Great movie to watch, but the kids probably should be asleep when you do.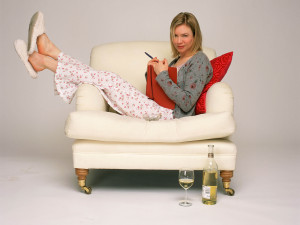 Bridget Jones's Diary
The first Bridget Jones's Diary, with Renée Zellweger, also in her pre-face lift incarnation, was, IMHO, the best of the bunch. Hugh Grant and Colin Firth, both of whom were in Love Actually, actually, vie for the hand of Bridget Jones, who's a thirtyish woman looking for true love. The story is told very cleverly through Bridget's diary, which reveals all her fears — insecurity about her weight, her inability to stick to one job, as well as other neuroses we women are plagued with. Hugh Grant plays Daniel Cleaver, a sexy cad, while Colin Firth plays the seemingly uptight Mark Darcy (get the Jane Austen connection?). Both get their fair share of insults and admiration in Bridget's diary. The tease is with whom Bridget will ultimately end up. It takes place just before and during the holidays, and the sappy ending will surprise no one. Still, it's a delightful escape from reality.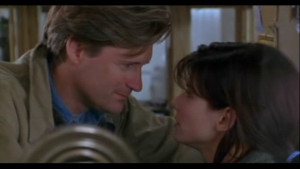 While You Were Sleeping
Put Sandra Bullock together with Bill Pullman, throw in Peter Boyle and Peter Gallagher and you're bound to have an earnest, heart-warming comedy. While You Were Sleeping delivers. It first came out in 1995 and tells the story of Lucy, a CTA (Chicago Transit Authority) token collector with a crush on Peter Gallagher, who passes through her turn-style every morning. Of course, Lucy saves his life on Christmas morning when he is pushed onto the path of an oncoming train. She goes to the hospital with him and mentions to a nurse that she was going to marry him. The nurse assumes she's Peter's fiancée. Enter Peter's brother, Bill Pullman, and you already know what's going to happen. I won't tell you, except to say it's screwball comedy at its romantic best, Kathryn Hepburn notwithstanding. I recommend it highly. Leaves a sweet taste in your mouth. And it's suitable for the whole family.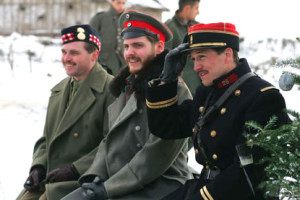 Joyeux Noel
Finally, here's one the guys will like, too. I like it because it's historical and it's based on a true story. The story: during World War I soldiers on the front lines of the war (the French, Scots and Germans) suspended hostilities on Christmas Eve of 1914. Across a field from each other, both sides sang holiday carols to the other. The truce only lasted a day; after Christmas they resumed fighting. (Can you imagine that happening today?)
At any rate, the 2005 French film based on that truce follows six people, four of them soldiers before, during, and after. The other two characters are singers who decide to perform on the German front lines over the holiday. As one of them starts to sing "Silent Night," they realize they are being accompanied by a Scottish bagpiper from the other side. One thing leads to another, and the soldiers meet in no man's land at the center of the field and declare a cease fire. Then they share chocolate, champagne, photos of loved ones, and more. There's a lot more to the story, including class struggles and family problems that aren't as benevolent, but it's a terrific film and was nominated for an Academy Award for Best Foreign Language Film. Plus, the film features one of my favorite European actors, Diane Kruger (She plays the lead on the US version of "The Bridge.")
Hope Your Holidays are warm, peaceful, and filled with the people and things you love.