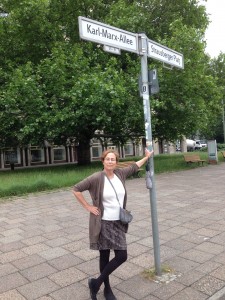 Before I went to Berlin several people, including my brother, told me how much I was going to love the city. And I admit that Berlin is big, bustling, easy to get around, and everyone there speaks English. But Berlin isn't Germany the way New York isn't America and London isn't Britain.  I didn't see the Bavarian touches of Freising or the stateliness of Vienna. I saw a huge metropolis instead. Which wasn't all bad. It was just that I wasn't expecting it.
The closest we got to the "Germany" of my fantasies was a restaurant around the corner from our hotel
(the one with the bear in front—the hotel, not the restaurant) that served real sausage, sauerkraut and potatoes. It was one of the best meals I ate in Europe.
Except for the Tiergarten, Berlin's Central Park, which you KNOW is going to end up in one of my books… Of course we had lunch in the outdoor cafe: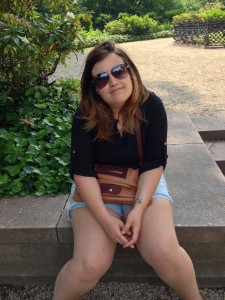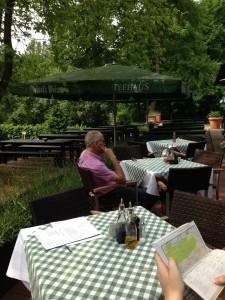 In fact, most of the sites I wanted to see I first learned about either in crime novels  or history books. The remains of the Berlin Wall, including Checkpoint Charlie, which called back memories of Le Carre and other cold war spy novelists: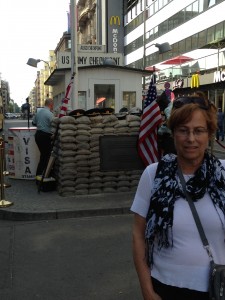 Friedrichstrasse which seems to be in every novel I've read about the Thirties, the War and Nazis: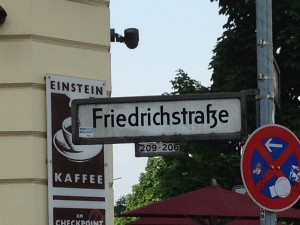 The Reichstag, which gave me chills: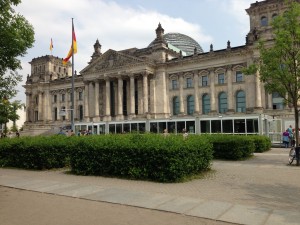 And the Brandenburg gate, now the symbol of the wall coming down …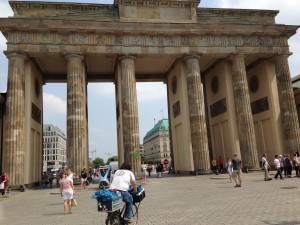 The site of Hitler's bunker, which appropriately, is now a parking lot
The Adlon Hotel, where one of my favorite fictional PIs, Bernie Gunther, works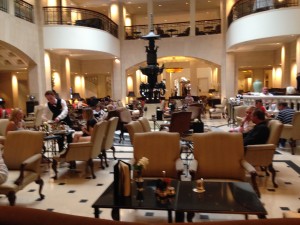 We went to a spectacular show, reminiscent of Cirque de Soleil (I wasn't supposed to take photos, but I couldn't resist)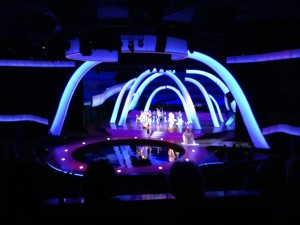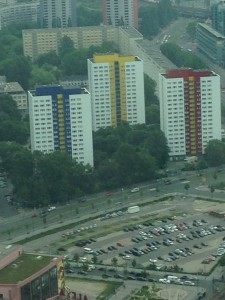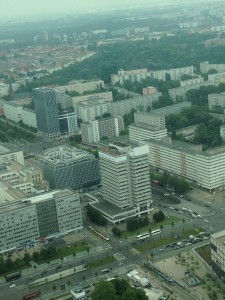 And Berlin Tower, where, 25 years later, you can still see the difference between East and West Berlin…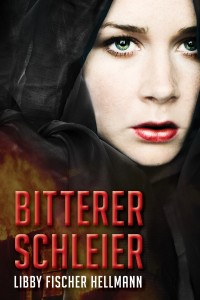 Finally, I would be remiss if I didn't mention that A Bitter Veil, my best-selling historical thriller about love and chaos during the Iranian Revolution, has just been translated into German. The story has a curious German connection,  so if you're a German reader, I hope you'll take a look at Bitterer Schleier . It's on Amazon.de and Amazon.com (and all the other Amazon sites too), and it's in both paperback and ebook.
Next time is Budapest, which was the first city we visited, but I've saved it for last. I guess I still need to figure out whether I liked it.