How about some free audiobooks while you're stuck indoors? Well, you've come to the right place.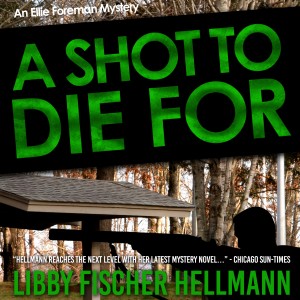 I've JUST finished re-recording the fourth Ellie Foreman novel with my very favorite narrator Nan McNamara. (She has now recorded 4 of the 5 Ellie Foreman thrillers). I'm delighted with the finished version, and I hope you will be too. I have some Author Direct codes to distribute to anyone who will write an honest review of the production in exchange for the audiobook.
The story takes place largely in Lake Geneva, Wisconsin, a resort town known for over a century as the summer playground for rich Chicago industrialists like Sears, Pullman, Wrigley, Ryerson and more. They came after the Chicago fire of 1871 and stayed while their Chicago mansions were rebuilt.
Lake Geneva's other attraction was the Playboy Club resort, which flourished from the 1950s until about the mid-1960s. Celebrities were flown in for shows. Bunnies served the guests wine and other cocktails. But alas, all shiny things come to an end, and SHOT begins with Ellie Foreman producing a video at the Playboy resort, now a family vacation spot. She's returning from a shoot when she meets a beautiful young woman at an Illinois rest stop. They chat — the woman is waiting for a ride. Then a van pulls up, a rifle extends from the back, and the woman is shot dead.
Ellie's love life turns upside down in this book too, so it's a pivotal entry in the series.
To get this audiobook free, in exchange for a review on Audible, iTunes, Goodreads, or other platform, email me.
But wait! There's more!