Hi, everyone. Many of you know I'll be coming out with a new Georgia Davis thriller this fall — November 13, 2018. And today is the day for the cover reveal!!! I'm so excited, and I hope you will be too. As the graphic indicates, it's all ready to be pre-ordered as well, and now is the time. On release day the price will go up to $5.99. So you'll save $3.00 by pre-ordering.
And the winner is…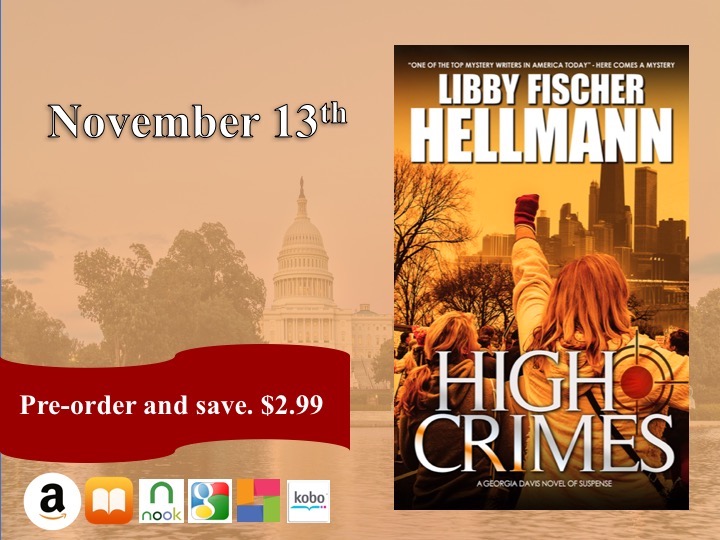 Book Description
How do you solve a murder when there are 42,000 suspects?
That's the task facing Chicago PI Georgia Davis, hired to hunt down those ultimately responsible for the assassination of Resistance leader Dena Baldwin at a demonstration fourteen months after the 2016 election. The gunman, on a nearby hotel rooftop, dies within minutes of the shooting.  As Georgia sifts through Dena's 42,000 Facebook followers, she discovers that unknown enemies hiding behind fake profiles have infiltrated the group. She finds others who will do whatever it takes—including murder—to shield right-wing, wealthy elites. When Georgia begins piecing together the facts, relatives of both victims mysteriously disappear, and the danger escalates. Threats and bruises have never frightened Georgia, but she's side-swiped by the sudden reappearance of the mother who abandoned her when she was a child. Can she survive an emotional family crisis at the same time she pursues killers whose only goal is to protect themselves?
PRAISE FOR THE GEORGIA DAVIS SERIES
"Hellmann brings to life the reality of bullying among teenage girls with enough twists and turns to keep you reading. Highly recommended."– Starred Review, Library Journal, Easy Innocence
"There's a new no-nonsense female private detective in town: Georgia Davis, a former cop who is tough and smart enough to give even the legendary V.I. Warshawski a run for her money." –Chicago Tribune on Easy Innocence
"DOUBLEBACK moves with twists, insightful juxtapositions, and many layers. Hellmann doesn't need to "doubleback." She's indisputably crossed the line into the realm of great crime fiction writers." –Crimespree Magazine
"Hellmann writes in many genres, but her Georgia Davis series may just be one of the best crime thriller series being written today." – Seattle Intelligencer on ToxiCity
"Thrilling…Hellmann ratchets up tension with every chapter and the reader is constantly kept wondering about the fate of both sisters." Publishers Weekly, Nobody's Child   
"Conflict so real it grips the reader. You dare not breathe or put the book aside…  Libby Fischer Hellmann ranks as one of the top mystery writers in America today." Here Comes A Mystery, Nobody's Child
More fun ahead with contests and fun events. Btw, if you're in a book club and think you might want to read this in your group, let me know!