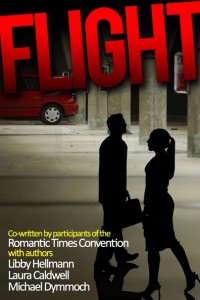 Back in April, five members of  THE OUTFIT, (a Chicago crime fiction blog I'm a member of) went to the Romantic Times Booklovers Convention which was held in Chicago. The organizers asked us to come up with an interactive workshop, so we obliged by creating the "You Done It" workshop, in which members of the audience would help us brainstorm a short story and we'd write it up afterwards and publish it!
Well, that story is now done. It's called FLIGHT and it's a thriller about a woman and a man, and yes, there's romance in it. We've put it up on Amazon, Smashwords, Apple, and B&N. Although five of us were at the workshop, three of us did the majority of the writing; hence our names are on the cover. It still amazes me how "Something" can evolve from a place where there was "nothing." Much gratitude and thanks to my talented Outfit colleagues Bryan Gruley, Jamie Freveletti, and of course, Laura and Michael. (We did it, guys!!!)
And.. just because we love you… and all the people at Romantic Times, we've entered it into the Smashwords Summer/Winter promotion. If you get the story directly from them, it's #FREE all during July starting tomorrow, July 1. !! It should also be available — or at least — talked about in RT Book Reviews. Use the Smashwords Code SSW75.
Enjoy! And tell everyone you know!