Hi, everyone. I have a VERY special promotion that just started, and I hope you'll take advantage of it!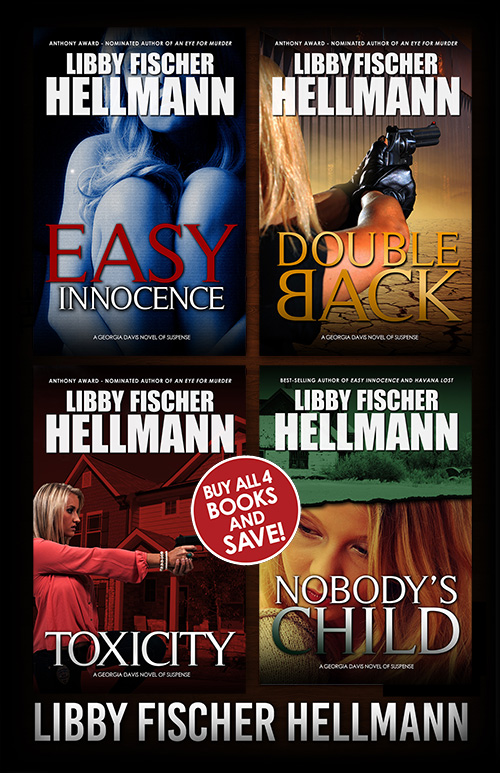 4 of my 5 Georgia Davis PI thrillers are now in a Boxed Set for just 99¢!!
The promo starts today and will go through February 9th, so it's only this week. The silver lining: You'll have 4 great novels to read through the icky month of February! You can find it at your favorite retailer, and here's a universal link to get you there.
Want a snapshot description of all four stories? Read on…
EASY INNOCENCE (2008):
Winner, Best PI Novel, Readers Choice Award
Freshly-minted PI Georgia Davis investigates the murder of a high school girl and finds out how far teen girls will go for approval from their peers.
DOUBLEBACK (2009)
"Great Lakes Great Read" Autumn Pick, 2009 Great Lakes Bookseller Association
PI Georgia Davis and Ellie Foreman team up and criss-cross the country after the kidnapping of a young girl triggers a series of more deadly events.
TOXICITY (2011) Winner, Best Suspense, Readers Choice Award, Love is Murder Conference.Ten years before Easy Innocence, three bodies turn up in quick succession—all of them dumped in waste disposal dumpsters or landfills. Officer Georgia Davis, her boyfriend detective, and his partner team up and find much more than they bargained for. "The Georgia Davis series may just be one of the best crime thriller series being written today." Seattle Post-Intelligencer
In NOBODY'S CHILD, nominated for a Shamus, a Daphne, and the Chicago Writers Association best book of the year, Georgia discovers a half-sister who's in big trouble. But rescuing the girl will bring Georgia back to confront an old enemy. ""Thrilling…Hellmann ratchets up tension with every chapter." Publishers Weekly
Btw, if you buy the set, let me know in the comments section of the pinned post on my  Facebook Author Page. Just say, "I bought it!" so I can personally thank you, even if it takes me months.
Have a great week, and I hope Georgia makes it even better!
Warmly,
Libby