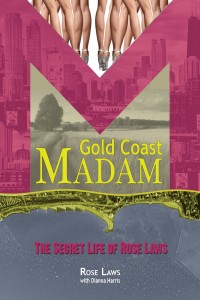 Hi, all. I am delighted to have the authors and publisher of a new book called THE GOLD COAST MADAM: The Secret Life Of Rose Laws over here today. For those of you not in Chicago, the Gold Coast, nestled just on the edge of Lake Michigan, is probably the most affluent neighborhood in the city. This non-fiction memoir was written by Rose Laws and Dianna Harris, and yes, it's all about Rose's former career in the '80s and '90s. And yes, she was a Madam with a slew of call girls in her employ. Here's how Rose introduces the book, which, btw, was released by Sharon Woodhouse of Lake Claremont Press, a Chicago publisher who always seems to come up with fascinating Chicago people and stories.
"Chicago, 1988. I was 52 years old, 5'4″ tall, and 130 pounds, with red hair and a 36DDD bust,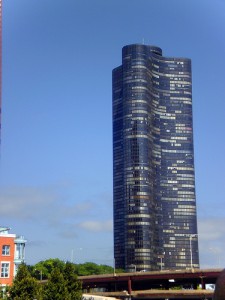 enjoying dramatic Lake Michigan and skyline views from my 21st-floor apartment in the landmark Lake Point Towers building. I had never felt more alive. I was Chicago's reigning madam, providing $400 an hour call girls to Chicago's business owners, traders, lawyers, judges, politicians, mobsters, pro athletes, and Hollywood stars at addresses all over Chicago's downtown and Gold Coast.
Vice was on their way up–the doorman had tipped me off. I started thinking back on my life, where I came from, and how I ever got to where I was now."

Why did you write the book?

ROSE: I have thought about writing about my unique experiences since I owned the Addison Motel in the '60s and '70s, but I never thought I could spell good enough. I tried many co-authors over the years, but none ever worked out until Dianna Harris and I started working together.

DIANA: I wrote the book because I know Rose has a part in Chicago history. I have always loved anything historical and I wanted her to have the opportunity to give a firsthand account of her life. I also loved Chicago's very rich history and I also realized the city has a reputation for being a crime town. Rose lived a life outside the law for over three decades, and her story is fascinating. After Rose served her prison term she felt freer to write her story. Once she retired from the business completely she was able to focus more on her book project.

What's been the reaction?

ROSE: Positive.

DIANNA: Very positive. People seem very curious to meet Rose and hear what she has to say. I think a lot of Chicagoans remember hearing her name in the press and want to see her in person.

SHARON: I'm finding that most people find the first part of the book–everything that happened in Rose's life before she became the "Gold Coast Madam"–at least or even more interesting than her days as an illegal agent for the city's elite. And, at public events when Rose is answering all manner of questions about her life and work, most people think they want all the details…until they hear them. Sometimes the look on their faces is: Why did she say all that? and I'm thinking, because you asked her…

Did you have any hesitation in "coming clean"? ROSE: Well, some things I couldn't come clean about!

DIANNA: And those stories are the ones we most naturally would really love to hear! Maybe someday…Rose was actually happy to tell her story. I think it was a healing process. After being secretive and in the shadows all that time I think that she is happy to be free to talk about her life.

SHARON: I want to add that there are plenty of things Rose hasn't told Dianna, including, for example, the real identity of her elegant, Italian-American sugar daddy Mr. Mysterious from Melrose Park. Neither Dianna nor I could figure it out through our own research with the details Rose provided. We're pitching this idea to Mob Wives of Chicago: the women on the show should have a Book Club Night (!), read Gold Coast Madam, and guess who Mr. Mysterious is. We're sure one of them would know who had a thing with Rose for over ten years.

How much did Karen Abbott's book, Sin in the Second City, influence you?

ROSE: I'm glad her book came out first and paved the way for ours.

DIANNA: I read almost every book about madams that I could get my hands on. Karen Abbott's book naturally was more relevant for me because her story is about Chicago and The Everleigh sisters working a century before Rose. The advantage I had was that Rose is still very much alive and I was able to get the stories straight from her.

What about Eliot Spitzer's misfortune?

ROSE: Spitzer was nuts putting pictures on the Internet. That's how he got caught. Crazy! I think he wanted to get caught. Madams and agents I met while in the business are still going big time because they keep a low profile.

Is it now okay to talk about the sex business? Why?

ROSE: Everyone talks about sex now, and everyone on T.V. Bill Maher sure talks about sex. But call girls keep out of the spotlight. I kept girls off the street, safe and clean, and with guys that didn't want their names and faces out there. (Or, on The View!)

DIANNA: The press has helped make the subject way easier to talk about. I think people have always talked or whispered about sex…it is just that now with the information age everything is out there in front of us on television and cable TV shows and the Internet.

SHARON: Publishing this book has demonstrated to me the opposite. Sure sex is everywhere but that doesn't mean that everyone likes that, accepts that, or feels comfortable with that. And, we're not just talking about sex here, we're talking about an illegal activity and exchanging money for sex. It's controversial, which to me makes it worth discussing and exploring. Not everyone feels that way. Some of Lake Claremont Press's regular customers (individuals and stores) and media contacts were not fine with this release, and I can respect that.

How has the sex trade changed? We hear about trafficking, not so much about call girls… how did you know where to draw the line in your business?

DIANNA: This is one for Rose to expand on. The sex trade has changed as technology has changed. Now girls advertise on the Internet and everyone has their own cell phone to set up appointments.

ROSE: I hate the words "trafficking" and "whores." They were working girls and they came to me of their own free will. In all my years I never worked one underage girl.

What's the thing that surprised you most about the business? DIANNA: No real surprises. Prostitution is the world's oldest profession.

ROSE: The thing that surprised me most was how busy I was–all the time. Men wanted their privacy in these things and I was able to ensure that.

SHARON: And Rose still does. Her book does not name names…though it hints at a few.

You can find GOLD COAST MADAM: The Secret Life of Rose Laws here. Enjoy!  

This is Rose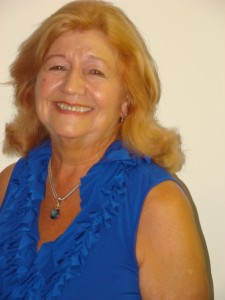 This is Dianna