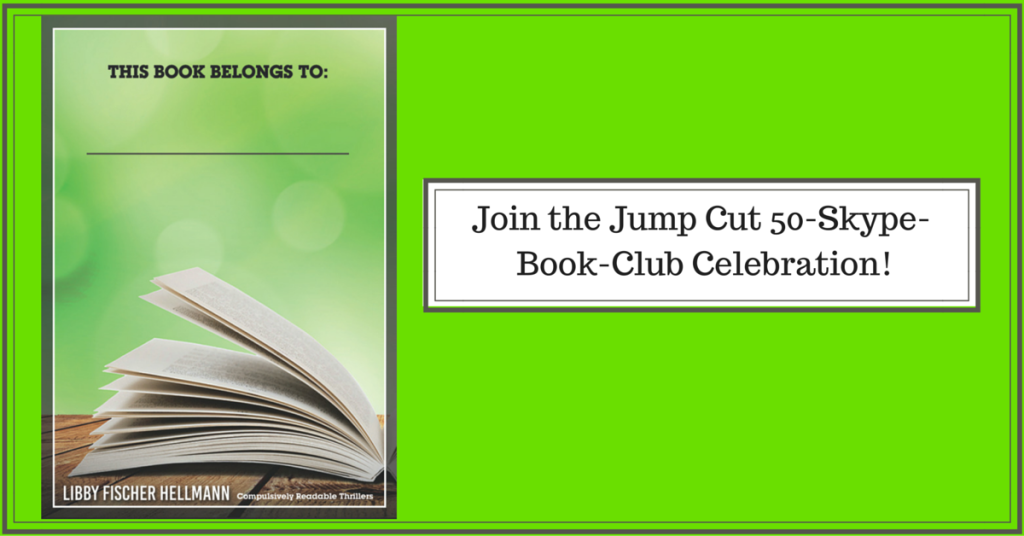 JUMP CUT, the 5th installment of my Ellie Foreman Mystery Series will be published on March 1. In order to celebrate and get it into the hands of as many readers as possible, I'm aiming to be a guest at 50 Book Clubs via Skype. Will you join me?
An Author at Your Book Group
Book groups help expand the reading experience for the number of people who attend; they help you finish a book; and they provide the chance to get together with friends, wine & cheese (as if you needed an excuse!).
Having the author of the book at your gathering can elevate the experience to the next level. You can:
• Ask burning questions that only the author would know
• Find out more about your favorite characters
• Learn what the author was thinking when she made a literary choice
• Discover why the plot took a particular turn
• Find out the author's writing process
How Will It Work?
Just submit your name and email here and propose a date when you'd like me to be there. That will get the ball rolling. I'll be available for up to 45 minutes on Skype to take questions and, hopefully, participate in the discussion.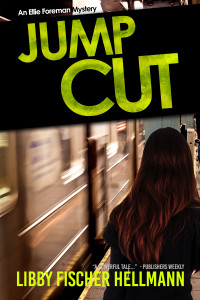 What's JUMP CUT About Anyway?
Here are the book description and some early reviews:
In JUMP CUT, Ellie finds herself entangled in a web of espionage, murder, and suspicion that threatens to destroy what she holds most dear.
Hired to produce a candy-floss profile of Chicago-based aviation giant Delcroft, Ellie is dismayed when company VP Charlotte Hollander trashes the production and cancels the project. Ellie believes Hollander was spooked by shots of a specific man in the video footage. But when Ellie arranges to meet the man to find out why, he is killed by a subway train before they can talk.
Ellie and her boyfriend, Luke, try to find answers, but they don't realize how far they have ventured into the dangerous echelons of hidden power. Soon, it becomes terrifyingly clear that Ellie is in way over her head, and more lives are on the line―including her own.
"Exceptional… As Hellman's convincing, conflicted characters face impossible choices, the tension is real and memorable."
—Publishers Weekly, STARRED REVIEW
"Hellmann's writing sparkles…plenty of suspense in this richly detailed thriller, but Hellmann's characteristic wit and warmth are evident, too."—Booklist
"From spies to drones and hackers, Jump Cut is a heart-stopping tale of corporate espionage that will have you snapping on your seatbelt. The tangled web of international intrigue is riveting. Hellmann is a renowned master of suspense, and her great talent shows in the story's many rich characters, the beautifully honed paragraphs, and the sweep of her provocative story. A keeper!"
—Gayle Lynds, New York Times best-selling author of The Assassins
"With spooks, spies, sudden death and double-crosses, Jump Cut hits all the right notes for a top-notch action thriller. Ellie Foreman is a thoroughly likeable real-world heroine, fiercely protective of those she loves, thrown in at the deep end and swimming for her life!" —Zoë Sharp, author of the Charlie Fox series and The Blood Whisperer\
"After a long hiatus, Hellmann returns to her Chicago-based sleuth with a chilling tale that may be all too close to the truth."
—Kirkus Reviews
While my primary objective is to make you stay up way too late reading because you can't put it down, JUMP CUT does explore some of the issues we're all grappling with these days. For example, what's the difference between "intelligence" and "espionage?" In an age where every major corporation and our infrastructure is vulnerable to hackers, what level of privacy and protection should we expect? How prepared are we to give up some of our civil liberties in return? Should the government have the power to eavesdrop on every phone call or email we send? Remember that for every person who thinks Edward Snowden is a hero, there is another who considers him a traitor. Who is right? Where's the balance? Where should it be?
For all those reasons, I believe JUMP CUT will provide lively conversations for your book group, and I'd love to be a part of them. To that end, I will provide a Discussion Guide for any book club that signs up.
Btw, the inspiration for the Book Club Challenge comes from Nomi Eve who surpassed her goal of 100 book clubs. Cheers to Nomi!
I look forward to hearing from you and your book club!