I thought you might like to read the first few chapters of Jump Cut… here you go.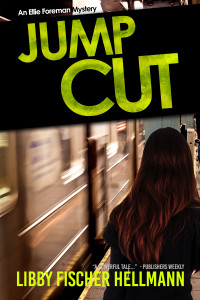 Chapter One
Tiny clouds of dust exploded whenever the boy kicked the stone down the road. He'd found it two hundred yards back as he skirted the herd of cattle. Flat and round, it looked like a small naan baked by the men in the village, except it was black. That was unusual around these parts; the summer sun bleached everything, including rocks, pasty white. A good omen, he thought, and he made sure to kick with his right foot, to lengthen the trajectory of the stone.
His destination was the madrassa at the village mosque. In a few weeks, he'd be picking cotton in his family's fields, but until the plants blossomed and the bolls split apart, his parents allowed him to attend school. The boy didn't know how much longer that would last. But the boy didn't go very often. Over the past few months the atmosphere at the mosque had changed. Now a palpable energy bounced off the stone walls. Men he didn't know, men with flowing robes and beards, had come to the village, talking urgently about things he didn't understand.
He tried not to take notice. Only nine, he was more interested in playing tag, learning football, and sucking down the sweets his parents allowed him when they traveled into the city of Aksu three hours away. But it was difficult not to listen when the men sat all the boys down and lectured them about joining jihad. In fact, when he told his father about it one evening, his father scowled and put down his pipe.
"These men are not our kind. They speak of matters that do not concern us. They are dangerous. If you are not careful they will bewitch you. Put you under a spell that will make you leave your home and family and travel across the desert with them."
The boy's eyes grew wide, and he threw his arms around his father. "I will never leave you, Dada," he said. "Or Ana."
His mother kissed the top of his head. "We know that, Yusup." But above his head she and his father exchanged a worried glance. "I have an idea," she said after a moment. "Why don't we go into Aksu tomorrow? All three of us. I have some shopping to do, and afterward we can go to the Internet shop and call your sister."
"On the Skype," his father cut in.
"Yes. The Skype," she repeated. She shook her head. The wonder of the technology still astonished her. "It is like she is in the next room, not halfway around the world." She smiled.
"Our world is changing," Yusup's father said. "Soon, my love, everyone will know about us. And they will come to our aid."
His mother straightened up. "I pray you are right." They exchanged another glance. The boy caught it but didn't know what it meant. He was excited at the prospect of going into town. They were too poor to have their own computer, but he was spellbound by the machines and their power. When he grew up he wanted his own Internet café with all the monitors and printers and Internet connections. He was a curious child, his parents said. Like his sister. To be able to contact anyone on earth at any time, to explore the world whenever he wanted, was the most thrilling activity he could imagine. Already he was anticipating what he would look for tomorrow. His sister always gave him suggestions for places he could search on the Google.
"Of course, we will only go if you have done all your chores," his father said.
So Yusup made sure to feed the goats and cows, sweep the floor, and help Ana in the kitchen. Still, it was early when he finished, and there was nothing to do. Most of his friends were at the madrassa. His parents gave him permission to meet them at the close of instruction. He hoped someone would have a ball.
He kissed his parents good-bye and set out for the madrassa. On his way to the village he passed the stream, flush from the spring thaw. The stubbles of grass that sprouted on its banks were a stark contrast to the red rocky mountains that hung heavy and silent in the distance. This was his corner of the world, but he wondered what other places looked like. He'd seen pictures of big cities like Beijing and Shanghai. And, of course, the American cities of New York and Chicago, where his sister now lived. He swung his arms and smiled as he kicked the stone. He had much to look forward to: an afternoon of football with friends, and tomorrow a trip into town.
A few huts indicated he was nearing the village. He quickened his pace and soon the squat buildings of the mosque, the village hall, and the marketplace came into view. He leaned over, picked up the stone, and slipped it into his pocket. As he did, a buzzing sound above pierced the silence. He looked up. He couldn't see anything, but the whining persisted. Sometimes he caught a glint way up in the sky. His father had said those glints were airplanes full of people traveling around the world. He expected to see the sun reflecting off one now and waited. But there was nothing: no reflection, no metallic glitter. Instead, the buzz got louder. Like thousands of wasps hovering inches from his ears.
He started to jog toward the village buildings. Something was wrong. He needed to get inside. Protect himself from the wasps. All at once a hissing sound mixed with a soft thwack overpowered the buzz.
A great white light flashed and obliterated all sight and sound.
Chapter Two
Monday
Before my gangstah-rap neighbor emptied his AK-47 into his buddy, the most exciting thing to happen in our village was the opening of a new grocery store. The store hired a pianist who played Beatles tunes, no doubt to persuade shoppers to part with their money more easily. My neighbor, rapper King Bling, was helping his fans part with their money too, but the shooting ended all that. Once he made bail, he moved and hasn't been heard from since.
And so it goes in my little corner of the North Shore, about twenty miles from downtown Chicago. There are benefits. The King, as he's known to his disciples, gave our cops something to do besides ticket speeders. And the new grocery store gave me the chance to buy prepared dinners so I could dispense with cooking.
Both of which come in handy when I'm producing a video, as was the case now. We didn't finish the shoot until seven. I raced up the expressway toward home, dropped into the store, and was eyeballing a turkey pot roast—the only one left—when my cell trilled. I fished it out of my bag.
"Mom, where did you get the shoes?" I heard chatter and giggles in the background.
"What shoes, Rachel?"
"The ones you gave Jackie." My daughter, Rachel, had successfully, if unbelievably, graduated from college and lived in an apartment in Wrigleyville. Jackie was her roommate. "Everybody thinks they're awesome."
I smiled. I'd bought a pair of shoes online a few weeks earlier. They looked like gray sneakers on a raised three-inch platform. They were adorable, just my style. When I tried them on, however, they were so steeply pitched I knew my middle-aged body would break one of my middle-aged legs in minutes. I'd sighed and given them to Rachel's roommate, who is decades younger but wears my size. "I don't remember. Online someplace." I eyed the pot roast and closed in.
"Did you have a Groupon?"
I wracked my brain. "I think I did. How did you know?"
"You never buy retail. Okay, bye. Oh, wait, Q wants us to take you to dinner."
Q, short for Quentin, is Rachel's boyfriend, and he's lasted longer than her usual flavor-of-the-month guy. They'd been "just friends" in high school but five years later discovered the other person was "pretty cool," as Rachel put it. Apparently it was more serious than I thought, if he was suggesting a meet-up with Mom. That, or else he had perfected the suck-up-to-the-parents routine.
"What a lovely thought," I replied, still eyeing the turkey pot roast, which smelled delicious even from a distance. Unfortunately, another shopper, a man with bushy eyebrows, narrow eyes, and one of those small baskets over his arm, was homing in on it too. I had to move fast.
"Let's talk about it later. I'm getting dinner…ready."
"Oh, Mom, I know you're in the grocery store. I can hear the music."
Busted.
The man with the basket caught me staring at the pot roast. His gaze wandered from me to the food. Back to me. I gave him a steely look. He turned back to the pot roast, shrugged in disdain, and picked up a slab of ribs instead.
I scooped up my dinner. It's the little victories that count.
Chapter Three
Monday–Tuesday
Back home after dinner, I called my father, who was cranky. Then Luke, my boyfriend, who wasn't. After that I called Susan, my closest friend. My daily check-ins complete, I climbed into bed and was soon immersed in a novel about time travel when my cell chirped. A text from Mac, my director and cameraman.
"Call at 6 a.m. Have to light the whole booth."
I sighed and wondered for the umpteenth time if I was getting too old for early morning shoots. We were producing a video for Delcroft Aviation, one of the largest aircraft manufacturers in the world, with huge civilian and military contracts. Headquartered in the Loop, they'd been around for years but had recently updated their corporate communications strategy. Now they wanted to appear "engaged with and interested in" their publics. In the age of Facebook, Twitter, and about a hundred other social media networks, I wondered how much a consultant had been paid to come up with such an obvious strategy. I didn't mind too much, though; the consultant recommended a video about the company, and Delcroft asked me for an RFP. We would feature only Delcroft's consumer aviation side. We were to have nothing to do with their military aircraft, bombers, and drones, which probably accounted for a hefty chunk, if not most, of the corporation's profits.
The video I proposed would be released in "chapters," like a book. A new "chapter" would appear on their website, Facebook, and YouTube once a week over several months. Delcroft would also sponsor a contest in which regular folks could win tickets to the destination of their choice, no strings attached.
Delcroft liked the idea, and we were now shooting one of our final setups, an aviation trade show at McCormick Place, where Delcroft was a major exhibitor.
Mac, prudent as always, was on top of everything.
"I'll bring coffee," I texted back.
* * *
The sun winked off the frozen surface of Lake Michigan the next morning as I drove south to McCormick Place. During one of the most brutal Chicago winters in decades, the smudge of purple clouds tinged with pink and gold hinted that the fury of winter might—just might—have peaked. I parked in the overpriced lot, bought half a dozen cups of overpriced coffee, and carried them into the massive exhibit hall.
The crew was setting up lights and shades, and Mac was behind the camera framing shots. MacArthur J. Kendall III owns a production studio in Northbrook. He started out shooting sweet sixteens, bar mitzvahs, and weddings, but parlayed that into corporate videos. We've worked together for nearly twenty years, from the days of two-inch video, to one-inch, three-quarter, and now digital.
Mac's name, salt-and-pepper hair, button-down shirts, and penny loafers scream WASP, but the nasty scar running down his left cheek saves him from total Episcopalian infamy. He tells people he was attacked by a Mexican drug lord and made me swear never to reveal it was from a car accident.
I went up to him. "What do you need me to do?"
"You have the shot list?"
I nodded and pulled it out of the canvas bag that doubles as my purse. We went over it. He gestured to the main area of the Delcroft booth, which featured a large projection screen with the company logo on both sides, and about twenty chairs arranged theater-style.
"What time's the first presentation?"
Teresa Basso Gold, our client contact, had told us to be prepared for a series of short remarks by Delcroft executives touting the company's latest innovations.
I checked my watch. Barely six thirty. "The doors don't open until nine, and Teresa said not to expect anyone until ten. But you can get some establishing shots, if you want."
"Sounds like a plan," Mac said and strolled over to confer with the crew.
Chapter Four
Tuesday
The shoot went smoothly, but there were lots of talking heads, and not many cutaways or B-roll. A lot of video folks don't mind. In fact, jump cuts of people talking, with no cover footage or transitions linking their remarks, are common in our "instant video" society. But I guess I'm a purist.
We did have plenty of video from the manufacturing facilities we'd been to, as well as interiors of the new planes they'd just introduced. Teresa had already sent me some file footage that would help us show the history of the company. Now I suggested she let us fly on one of their new planes to the Bahamas for B-roll; the light would be so much better. After all, it was February in Chicago. She rolled her eyes.
"Well…" I backed off. "There's always Miami…"
She laughed.
I sighed.
A man eyed us as he brushed by and smiled, as if we'd all just shared a joke. He sat in one of the chairs, presumably waiting for the next speaker. He was probably somewhere in his thirties, with piercing eyes, longish black hair, and a slender build. He seemed to be part Asian, part Caucasian, and he reminded me of Keanu Reeves in a pinstriped suit.
Teresa and I exchanged glances. She smiled. "Nice."
I checked her left hand. No wedding ring.
"He's all yours," I said. "I'm off the market."
"Can't do it," she said. "You know what they say about where you eat…"
I shrugged. "Pity." The guy was sexy in an understated but undeniable way.
"You said it."
I liked Teresa.
* * *
Producing, when you have a great director like Mac, is easy. I didn't have much to worry about except the script and how we'd edit the footage in post. I drifted around the booth, studying the models of wide-bodied jets. They were three feet in diameter and remarkably accurate, down to the upholstery on the tiny seats. I decided to ask for one of the models once the trade show was over. My boyfriend, Luke, is a pilot. He'd love it. I could picture it on the mantel above the fireplace in his office. Although maybe it should be suspended from the ceiling. I was mulling it over when I was interrupted by Keanu Reeves.
"Pardon me." He smiled politely. "I couldn't help noticing…" He motioned to the crew. "Are you with them?"
I nodded.
"What are you filming?"
"It's a promotional video for Delcroft," I said.
"Promotional?" He tilted his head as if he didn't know what that meant.
Now that we were standing together, I saw that his eyes weren't dark like his hair. In fact, they were sea blue and fringed with dark lashes. Striking.
"We're showing the softer side of Delcroft," I said, stealing the old Sears ad line.
His expression remained blank. He didn't get it. I cleared my throat and stuck out my hand. "Ellie Foreman."
He looked me over. I have long, wavy black hair, which, thanks to my hairdresser, will never contain a strand of gray, and blue-gray eyes, and I can still fit into a size eight, although they keep liberally interpreting the measurements. Still, it didn't appear he was interested in my feminine attributes, which was what I'd figured when he approached.
We shook hands. "I'm Gregory Parks," he said. "Do you work for Delcroft?"
"No. I'm a freelance producer. Delcroft hired me to make this video. Actually, a series of videos," I added.
"Oh." He didn't seem to know what to make of that.
"I used to be in broadcast news." I still feel compelled to tell people that. As if to assure them that while I might be a flak now, I was once a respectable member of the fourth estate. Then again, given the deplorable state of TV news today, it might not have been such a wise decision.
His brow furrowed into a puzzled expression, which was cut short by the trill of his cell. He picked up, and a tender look came over him. He spoke softly in what sounded like Chinese, smiled, then disconnected and pocketed the cell.
His smile brightened, his eyebrows arched, and he looked more interested. I wondered if he'd been talking to a woman. Maybe his girlfriend or wife. I looked for a ring but didn't see one.
Suddenly he was all business again. "What division of Delcroft is making this—this video?"
"Public information." I wondered why he was asking. "What about you?" I asked
"I'm a—a consultant."
The consummate corporate catchall. It could mean anything from janitor to CEO. "That covers a lot of territory."
"My company sent me to research new developments in aviation."
"Oh. What company is that?"
"You wouldn't know it." He smiled, reached inside his jacket pocket, and pulled out a crush-proof box of Marlboros. I'd know the red-and-white logo anywhere. When I smoked, Marlboro was my brand, and the packaging hasn't changed.
I frowned. "Those things can kill you, you know." One of the things I'm most proud of is that I quit twenty years ago.
He colored and reached back into his jacket. "Sorry. I meant to give you this." He withdrew a business card, handed it to me, and put the cigarette box back into his pocket. I dug into my bag and gave him one of mine in return.
I took a look at the card. Just his name, an email, and a phone number.
"And the company?" I asked again.
His color deepened. "Actually—uh—I'm doing some work with Delcroft."
"Really."
He nodded.
"Well, in that case, don't let me keep you. Nice meeting you, Gregory." I dropped his card into my bag and turned away. He'd been pumping me. Checking me out. But he clearly didn't appreciate being pumped in return.
When we broke for lunch at a McCormick Place restaurant, I spotted Gregory again across the room. He waved as if we were best friends. I waved back.
"Who's that?" Mac asked between bites of a supersized twelve-inch hot dog.
"I'm really not sure. At first I thought he was trying to pick me up." I shrugged. "But he wasn't. He was pumping me about Delcroft. But then he said he worked with them."
Mac raised his eyebrows.
"Weird dude." I shrugged.
The rest of the day was a blur of presentations, close-ups of the model planes, and cutaways. By the time we were finished, it was after six.
"Shall I upload the footage to you?" Mac asked.
Now that everything's digital, I no longer need to spend long hours in a dark room hunched over a machine with an editor. I can screen and tag shots on my desktop, then email Mac what I want. Still, I miss the intimacy of the editing room. That's where the magic happens, and if you're lucky enough to have an editor like Hank Chenowsky, who works for Mac, it doesn't feel like work, even when I walk out of a darkened room hours later like a cranky owl blinking in the sunshine.
"You know what? I think I'll come over tomorrow morning and screen it with Hank. Let him know, okay?"
"Good deal," Mac said. "Bring doughnuts."