Last time I talked about late summer movies. This time it's TV, which is where all the good stuff is, as you've probably noticed. I've been binge-watching my way through August and I've seen some great mini-series. As an author my stock-in-trade is storytelling, so I'm delighted to recommend these—some are mini-masterpieces.


Rita – The life and times of a Danish school-teacher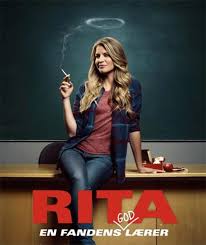 Netflix delivers a really lovely mini-series in Rita, a warm and satisfying three-season comedy drama about a rebellious Danish school-teacher. Rita Madsen, played by the wonderful Mille Dinesen, is a fascinating character, an unconventional, stubborn single mom and teacher. The actress was awarded Best Female Lead for the part at the in Monte-Carlo Television Festival and the show landed six nominations including Best International Producer and Best European producer of a TV drama series. A US remake was planned and a pilot episode filmed in 2013, with Anna Gunn in the starring role, but the series never happened.
Rita was filmed in Norway and the Czech Republic, and the dialogue is in Norwegian, German, English and Danish…. which is fine by me, since there's something very special about subtitles. I know a lot of you don't like them, but IMHO but to me subtitles enhance a show. There's something about the written word that makes the plot so much more vivid and clear. I also understand the context of the language that's being spoken more clearly, and sometimes I pick up a phrase or two. Tac.


The Saboteurs – Stopping the Nazis and Heisenberg in their tracks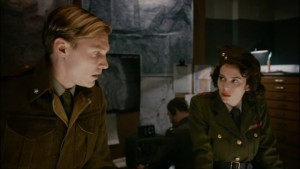 "The Saboteurs," also called 'The Heavy Water War', is about the Norwegian/British effort to blow up the heavy water plant the German physicist Werner Heisenberg was counting on to help him split the atom and make a nuclear bomb. Because my latest novella, The Incidental Spy, has a World War and atomic bomb theme, I found this series particularly relevant.
The mini-series stars Brit actress Anna Friel and dramatizes the Nazis party's attempts to build a nuclear weapon and the Allies' desperate effort to stop them. The first two episodes were broadcast in Norway in January 2015 and attracted more than a million and a quarter viewers, a national record for a drama series. The series has yet to be shown in the US, but you can find it online. It's masterfully filmed, and the actors are all excellent, making it probably the best of all the series I watched.


X Company – Made in Canada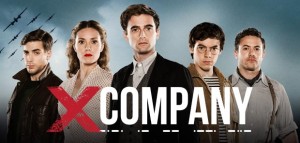 "X Company" is a Canadian series, produced by the same people who made Orphan Black. It's all about the OSS training camp in Ontario, where the US trained and then sent military recruits to become spies.
According to Wikipedia:
 "X Company is a Canadian/Hungarian spy thriller television series created by Flashpoint's Mark Ellis and Stephanie Morgenstern which premiered on February 18, 2015, on CBC Television. The series takes place during World War II, and follows five recruits as they are trained as secret agents at a Canadian training facility near Lake Ontario and then sent out into the field."
The camp was run by OSS senior official William Stephenson and, of course, the OSS was the forerunner of the CIA. The series was presumably set in France (and Canada) but, in an 'art mimics reality' twist, my late father in law, who was off the boat from Germany in 1939, was drafted and sent there.
After his training he was sent back to Germany, behind enemy lines, where he stayed for 2 years. He never talked about it, never told us whether he was a spy, a courier, a radio operator, or something else, so we don't know what he did. I mentioned this in my first novel, AN EYE FOR MURDER. So I enjoyed "X Company," even though it got a tad melodramatic as it wound on.


Tyrant – Too far fetched and predictable?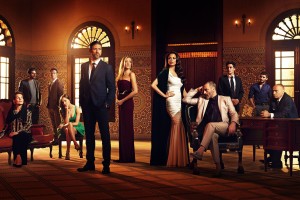 "Tyrant" is a home-grown FX series about an "American" pediatrician with an average American family. But he turns out to be the son of a Middle-Eastern tyrant. Think Jordan or Oman or another of the more progressive countries in the area and you get the picture.
He returns to his homeland for a wedding, where his father dies during the festivities, and the prodigal son decides to stay. I only watched two episodes. Despite being produced by some good people, including Gideon Raff who did "Homeland," the Israeli "Prisoners of War" and "24," the premise is pretty far-fetched and the series is way too predictable. But apparently this is what happens…
Bassam, AKA Barry, the star of the show,  is soon drawn into a tense political crisis, forced to use his influence to guide the country's new President, his brutal and near-mad older brother Jamal, to a peaceful political solution. If you've watched more than I have (It wouldn't be hard), let me know what you thought of it.


Dicte – Danish reporter turns detective
I wasn't that keen on the premise and wasn't expecting much. But Dicte turned out to be a lot more substantive, well-acted, and memorable than I expected. I love it when that happens, and it turns out an unexpected surprise is in store from Netflix.
Dicte is about a Danish newspaper reporter who solves crimes. The series is based on best-selling author Elsebeth Egholm's novels about the same character. Apparently 1.32 million viewers tuned into the first season's premiere in Denmark. As Denmark's official website says:
"After The Killing, Government and other Danish TV series have kept viewers across the world spellbound, a new Danish TV thriller series with a strong modern woman as the leading character is ready to follow on from the successes."
If you enjoy the series as much as me, you can actually visit the places you see in the series on the Visit Aarhus website. Here's a link (http://www.visitaarhus.com/ln-int/aarhus/dictes-aarhus).
What's your favorite mini-series of the moment?