Tough words about books and social marketing in The Guardian by author Ewan Morrison. Here's how it starts:
"I'm convinced that epublishing is another tech bubble, and that it will burst within the next 18 months. The reason is this: epublishing is inextricably tied to the structures of social media marketing and the myth that social media functions as a way of selling products. It doesn't, and we're just starting to get the true stats on that. When social media marketing collapses it will destroy the platform that the dream of a self-epublishing industry was based upon."
It goes downhill from there. He cites a bunch of statistics and facts he's ferreted out to advance his argument. You should read it.
What do I think? Glad you asked. I think it's possible to prove anything you want to prove these days in book publishing. The book industry is still in a state of chaos, and I doubt it will settle down for a while.  So it's possible to allege pretty much anything you want, even find the facts to back it up. However, some of the research he cites ( ie, from the Kindle Boards) is anecdotal at best, egoboosting at worst. In other words, flimsy. For example he says only  70 authors sell 800 books a month. I know plenty of authors who sell that and more. They just don't broadcast it.
However, the fact remains that just as in traditional publishing, not everyone is going to prosper in the indie world. To be successful an author has to write what people WANT to read whether it's traditionally or indi published. Ie a well written story.
There was also no mention of Goodreads, which I believe  is becoming more valuable as a "gatekeeper" for our new world. As I get more positive ratings and reviews there, I'm beginning to notice an uptick in my sales. I hope it continues. I do think we need a gatekeeper or two.
My friend, author Michelle Gagnon has turned to writing YA thrillers, and she's got a new one coming out next month. It looks terrific — I can't wait to read it — but that's not the news… Right now her publisher is offering a FREE novella called NO ESCAPE. It's a prequel to DON'T TURN AROUND and includes a sneak preview of it. Btw, the book got a starred review in Kirkus, no easy feat. Check out the #FREE novella here in the US and here in the UK.
Finally, I have a new collection out: The Ellie Foreman Series: Boxed Set. All four of the Ellie Foreman novels are included: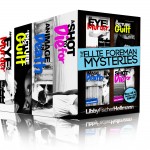 AN EYE FOR MURDER
A PICTURE OF GUILT
AN IMAGE OF DEATH
A SHOT TO DIE FOR
You can find it on Amazon, B&N, iBooks, and Kobo (somewhere). Enjoy!