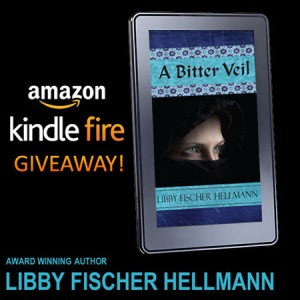 Hi, all. To celebrate the release of A BITTER VEIL, I'm delighted to announce the launch of my KINDLE FIRE GIVEAWAY contest!
Here's how to play:
o    Anyone in the US or Canada can enter.
o    Like My Facebook Author Page.
o    Read A BITTER VEIL and write an honest review
o    Post the review on Amazon, Goodreads, and/or B&N. Audible  counts too, if you're doing audio.
o    Leave a link to that review on my Facebook Author Page  – VERY IMPORTANT — that tells us you entered the contest.
As an incentive, A BITTER VEIL will go free for one day, but one day only, during the coming days. Be sure to check back here, or my Facebook Author Page, or Twitter to find out when. (Hint: it will be sooner rather than later.  On Friday, May 18, a winner will be chosen at random and announced on my Facebook page. If it's you, please message us within 4 days so we can get your Fire to you.
Even if you don't win the Kindle Fire, you WILL win something. Everyone who enters gets one of my short stories FREE. Your choice. Just let us know which one. You can find excerpts of them all here.
Enjoy!