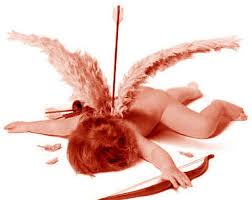 Confession: I am a Valentines Day cynic. Not for me the cards, roses, candy, and romantic dinners. In fact, for me Valentine's Day is a Hallmark holiday that breaks up winter. It's also a merchandising opportunity for florists, candy stores, restaurants, and jewelers.
I mean, really, why do we only express our love on February 14th? As decent human beings we're supposed to do the love, support, and devotion bit every day, not just once a year. And who invented Valentine's Day anyway? What's so bad about being loved-up on the third of May, or the fourteenth of June? No doubt someone has the answer.
But that's not the point of this post. If you're a fellow cynic, this one's for you. Call it a twisted Valentine's Day gift if you like: a list of novels that combine love and crime. None of them are typical love stories, and there's no mushy stuff. These are books with twisted or tainted love at their heart. So if you're looking for a HEA (Happily Ever After), it's time to leave the room…
You're still here. So let's go. Btw, this is just a small sample. I'll need you to fill in what I've missed.
Troubled Daughters, Twisted Wives  edited by Sarah Weinman
I love this collection of short stories by female suspense writers who were once prominent  but have fallen out of fashion in the past fifty years. All mini-masterpieces in 'domestic suspense', they weave stories of murder and betrayal centering around crimes committed in ordinary homes by ordinary people. No gangsters, criminals, spooks or spies, just a look at the dreadful deeds normal folk carry out when their safety, peace of mind, home or family, or clean kitchen  is threatened.
Double Indemnity – James Cain
Double Indemnity, written in 1943, is by the journalist-turned-novelist James M. Cain. That was REALLY twisted, so I am giving a tip of the hat to noir with him. As you may already know, insurance agent Walter Huff falls truly, madly and deeply in love with Phyllis Nirdlinger, a married woman who comes to him to buy accident insurance for her husband. He's basically a decent man. But his passion leads to his seduction, and he ultimately helps Phyllis her kill her husband for his insurance money. Tainted love at its best.
There Once Lived a Girl Who Seduced Her Sister's Husband, and He Hanged Himself – Love Stories by Ludmilla Petrushevskaya
Described as "sly and sweet, burlesque and heartbreaking" Petrushevskaya's twisted love stories have been compared with the work of Chekhov, Tolstoy, Angela Carter and Stephen King. Expect one-night stands, awkward couplings, office romances, crushes, elopements, courtships, and infidelity, all luridly violent and about as dark as it gets. She has also written also another anthology, There Once Lived a Woman Who Tried to Kill Her Neighbor's Baby: Scary Fairy Tales. Nasty… but in a good way.
A Temporary Matter by Jhumpa Lahiri
"A Temporary Matter" is a short story that was originally published in The New Yorker but then folded into Lahiri's anthology, Interpreter of Maladies.
The story is about Shoba and Shukumar's spiral into darkness as they confess parts of themselves to each other during a recurring power black-out. They begin with rather superficial admissions, but as the black-out continues, their confessions turn much darker. The story has been billed as one of the most "quietly disturbing" modern love stories ever. The anthology as a whole won a Pulitzer Prize for Fiction and a Hemingway Foundation/PEN Award in 200. Since then it has sold a remarkable 15 million copies, was chosen by the New Yorker as Best Debut of the Year, and featured in Oprah's Top Ten Book List.
Killing Me Softly by Nikki French
Here's part of what Publishers Weekly said about this tale of sexual obsession by the best-selling UK husband and wife team.
Alice Loudon has a wonderful boyfriend; a nice apartment in London; good friends; and a satisfying job… On her way to work one morning, she locks eyes with a handsome man dressed in black, and cannot get him out of her mind. Later that day, she finds him waiting for her and she plunges into an affair of such intensity that she leaves Jake, neglects her friends and her health and even puts herself in great danger. However, after she meets… women from Adam's past, she pieces together his secrets, and sees his overwhelming love for her in a more sinister light…Every decade or so a psychological thriller appears that graphically recounts an intelligent woman's willing sexual subjugation; this gripping novel joins that group.
What about your favorite anti-romance?
I'd love to know which twisted love and crime stories get your juices flowing, and why. Feel free to comment – let's get a discussion going.