I love that moment when, like now, I've finally finished the first draft of a book, a draft good enough to send to my editor. But what's next? The act of finishing a book leaves an empty, windy gap where all that daily hard work used to be, and like all vacuums it has to be filled. But what with?
I wish I could say I do all sorts of "writerly" things when I'm between books. But I don't. It's partly because at the draft stage a book still isn't really finished. I'll get a bunch of revisions from my editor, and will remain in a weird kind of creative limbo until it's actually published.
It's also partly because I'm running on empty. I've poured out all my energy and creativity into the book, and there's not a lot left for writerly pursuits or even writerly thoughts. To recharge my batteries, I go for something completely different.
So how to I keep myself off the streets and out of trouble?
— Clean my desk. A tidy desk means a tidy mind, so I clear away all the notes and information and data that I've accumulated during the writing process, either tossing it away or stashing it in a file folder. I love how my desk suddenly looks… all clean and uncluttered, ready for the next book.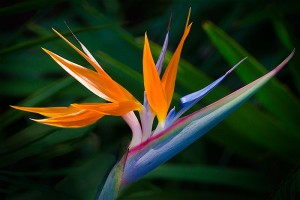 — Call my friends and tell them I'm ready to play – I'm like that Bird of Paradise flower that blooms once a year for just a day. Full of renewed energy, with time on my hands for the first time in months, I need to capitalize on that heady feeling of freedom. Look out world, here I come.
— Go listen to live bands, usually on the weekends, and dance up a storm. I'm lucky Chicago has a particularly vibrant music scene. It's a great way to loosen up, liven up and have a life again, at least for a while.
— Go to a Cubs game, my north side heroes, at Wrigley Field. As a history fan I love that they've been going so long. The club played its first game in 1874 as the Chicago White Stockings, only becoming The Cubs in 1903. They're the second oldest active US sports club and one of just two remaining members of the National League. The crowds, the noise, the beer and the atmosphere give me a boost and I go home refreshed and inspired, ready for anything.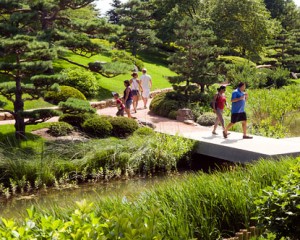 — Ride my bike to the Botanic Gardens and have lunch with a friend. It's a special place, 385 acres of lush living museum set on nine islands with twenty six display gardens, all surrounded by four natural habitats. My favorite place is the English Walled Garden, and no trip is complete without a visit in the Japanese garden.
— Catch up on movies I've missed. And there's a lot to catch up on after spending months glued to my keyboard as the real world goes on as usual outside.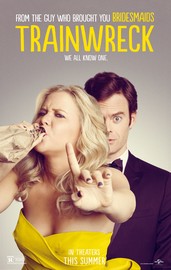 In other words… I actually get a life for a while. It's great. But unfortunately, by the time you read this, I'll probably be knee-deep in revisions. My vacation will have ended and there will probably be another book tickling the back of my mind, ready to come out. And so it goes.
If you're an author, what do you do when you're not writing?