I am delighted to have Dutch author Jochem Van der Steen as my first guest blogger. Jochem has a terrific blog, Sons of Spade which is devoted to hardboiled crime fiction. I  just discovered he is also the founder of the Hardboiled Collective, a group of like-minded hardboiled crime writers, including Timothy Hallinan, Bill Crider and Bruce DeSilva. One of Jochem's protagonists, Noah  Milano,  appears in Thrills, Kills 'n' Chills with a new short story, War Crimes . Another story, Tough As Leather, is reviewed at Murderous Musings and more of Jochem's work is listed below.
I asked Jochem to talk about what the Dutch think about hard-boiled American crime fiction. I was surprised — and fascinated — by his response. I think you will be, too.
I am honored to be on Libby's blog. She asked me to give you some insight into what we in Holland think about American crime fiction, since I'm a Dutch writer.
American crime is not the most popular crime these days. Sure, Karin Slaughter sells like crazy and David Baldacci and Harlan Coben do well, but don't  they everywhere? No, what's popular over here is the "literary thriller''. Often they tend to be tedious novels about women wrestling with some dark secret or a stalker. Scandinavian crime fiction does really well these days, even before it did well in the rest of the world. Elizabeth George (American, of course, but writing like she was British) and Nicci French are also bestsellers.
See the similarities? Not really hardboiled crime fiction, right? Generally hardboiled fiction is looked at as pulp, fiction maybe to be read by men, but certainly not women. Unfortunately women make up 80% of the thriller reading audience over here. Imagine, even Michael Connelly is not a bestseller  here.
If Dutch people think about American crime they think CSI, NCIS, Law & Order. Glitzy, Hollywood crime shows. Not excellent, gritty work people like James Lee Burke and Andrew Vachss put out. It's a shame, because they might have the tendency to look down at that genre, but they're missing out on thrillers that are a hell of a lot more psychological than a lot of the stuff they are buying.
I was lucky to encounter my first Dutch translation of a few novels by James Lee Burke, Robert B. Parker and John MacDonald twenty years ago, when they were available. It hooked me on the hardboiled genre and soon, when translations weren't to be found anymore due to the lack of popularity, I started to buy the original US-versions. They influenced me enough to create my own protagonists: Noah Milano (ex-mob fixer turned security specialist looking for redemption) and Mike Dalmas (husband, father, vigilante). Because I knew they wouldn't be popular here I decided to write in English. I was lucky, the e-zines in the US liked them and soon my heroes found an audience that would have been impossible in Holland.
So, if you're an American author and you're not published in the Netherlands, don't worry. It's not about the quality. It's just a matter of taste.
Check out The Albaster-skinned Mule (A Noah Milano Novelette)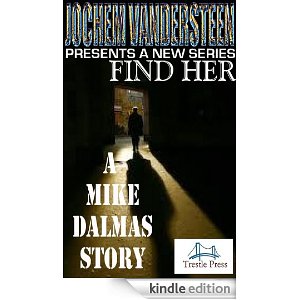 Find Her (A Mike Dalmas Digital Short), if you want to find out more about what I can't sell in my own country 😉
PS Libby here… Please do check out Jochem's work. And thanks so much, Jochem, for posting on SAY THE WORD!
PPS Comments or questions? Shoot!