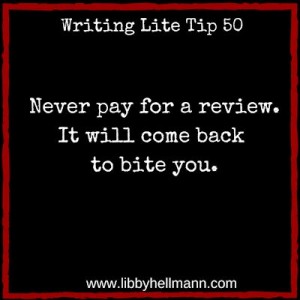 Enough said? You don't need to pay for reviews. You can find reviewers online, on Facebook (Check Reviewing groups), Twitter, Google+, and more. Some kind souls have even made lists of reviewers who will review self-published books, but you'll have to check to see how timely they are.
Make sure you craft a respectful, polite query letter that you send BEFORE you send them your book. After all, you're asking someone to invest a lot of time in your work. The query doesn't have to be long, but make sure they know how much you'll appreciate their effort.
You can see all 50 of my Writing Lite tips here on Pinterest.