First off, many thanks (I think) to my good friend Stacy Juba for inviting me into "The Writing Process" blog tour. It just so happens I'm about to start a new project, so I'm thinking a lot about my process. Next week, Sujata Massey, Lenny Kleinfeld, and Christine Kling will post their responses to the questions below.
 1) What am I working on?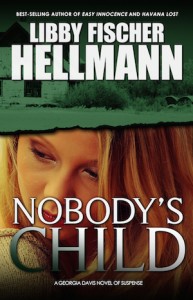 I've just finished multiple revisions on Nobody's Child, a new Georgia Davis thriller. It will be coming out in September. It's a dark book, probably the darkest I've ever written. Think Karin Slaughter or Tess Gerritsen on steroids. So I'm winding up work on that, and beginning a historical novella about a German refugee who comes to Chicago in the late '30s, marries a physicist, then is forced to become a German spy. And, I am part of a 5-Novel Box Set called Killer Femmes, with some of my favorite authors that will be out next week!
2) How does my work differ from others of its genre?
I like to say I'm "writing my way around the genre," but I have to admit what turns me on the most is looking at recent history and finding stories about ordinary people who have been thrust into extraordinary circumstances. Then again, sometimes I come back to the present and delve into the underbelly of dark doings in a city like Chicago. So I'm not sure my work is all that different from other authors.
3) Why do I write what I do?
Because I can't NOT write. Once a story starts percolating in my brain, it has to be written. That, btw, is the most fun part – creating the story. The worst part? Writing it.
4) How does your writing process work?
Badly. I used to be disciplined. I'd write in the morning (if I didn't have work), and edit and do promotion in the afternoon. But the world of publishing has changed so much that my discipline has flown. I write when I can. For every 500 words, I spend an hour online. I'm not sure I enjoy it, but it's become necessary. Weekends turn out to be the most fruitful for writing, since promotional efforts are usually offline for a couple of days. Which means, basically, I have no life. I live online or chained to my computer. A sorry situation, no?
As I mentioned before, next week, watch for posts from Sujata Massey, Lenny Kleinfeld, and Chrstine Kling on their respective blogs.
Sujata Massey was born in England to parents from India and Germany and grew up mostly in St. Paul, Minnesota. She holds a BA in Writing Seminars from Johns Hopkins University and started her working life as a features reporter for the Baltimore Evening Sun. She has won the Agatha and Macavity awards and been nominated for the Edgar, Anthony, and Mary Higgins Clark awards. Her books have been published in more than 18 countries.
Chris Kling was born in Montana but grew up in Southern California. She was not yet a teenager when she first took the helm of a boat. After completing an MFA, she spent two years cruising the waters of the Caribbean while she home schooled her son. Her first novel was published "off the boat" in 200s. Soon after she bought her own sailboat and renamed it Talespinner. Her day job was teaching English in Broward County, but she was able to retire from that in 2011 to write and cruise full-time. She is now published by Thomas & Mercer, and her 5th novel, Dragon's Triangle has just been released.
Coming in less than a week: