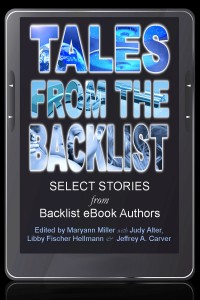 I know, I know… 'Tis the season for anthologies, and I've run across several, which I've already told you about.
But TALES FROM THE BACKLIST  is special. (And not just because my story is the first one… ahem…) It includes 19 stories by a group of us who call ourselves the BackList EBooks group. All of us have been traditionally published and are now making our backlists available as e-books.
We think the anthology is – well – priceless, but we did need to charge something. So we're selling it for 99 cents throughout the holidays. Here's the description:
Romance! Mystery! Aliens! Suspense! Spirits! Invite top writers from across the genres and what do you get? Tales from the Backlist! These short stories are a delectable sample of treasures from traditionally published authors who have united to bring you the best in fiction. Previously appearing in an array of publications, these 19 tales will delight, excite, and make you cry out for more!
Hope you'll take a look, and while you're there, check out all the authors who are in the group. You can't go wrong with any of them.
And if I don't post until after Christmas, I hope your holidays are warm, peaceful, and fun.