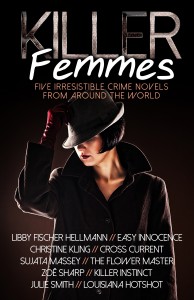 A couple of months ago mystery author Sujata Massey approached me about doing a "Bundle." For the uninitiated, a Bundle is a collection of novels by several authors, usually sold at a discount. I didn't  say no (story of my life, but that's another story), and the result is Killer Femmes.
The reason I accepted is that the other four authors are some of my favorites. Christine Kling writes sailing mysteries, Julie Smith from New Orleans won the Edgar for one of her novels, and Zoe Sharp, from the UK has always written terrific thrillers. I read them all regularly. So my decision was a no-brainer. Thus, Killer Femmes was born.
The ebook is already available on Amazon, Nook, iBooks, and Kobo, at the price of $.99. Yes, you read that right. It will only be this way for a limited time, so if you want the best read of the season at an incredibly low price, go for it. And if you like to review, contact me. I have an offer I hope you can't refuse.
We'll also be sponsoring a contest starting July 1 on our Facebook page where you can win $100 Gift card to the bookseller of your choice. Second place is a $50 gift card. We'll want your email among other things, but it should be a fun event. And, just in case you want to see us "in the flesh" so to speak, we'll be doing a Google Hangout on Air, Tuesday, July 1. We're calling it a "Brown Bag Lunch with Killer Femmes — the Secrets of a Series Writer." Please join us at 1 PM EDT (adjust your time accordingly) because it will be live. Click here for more.
Hope everyone is having a good Father's Day. Do check out Killer Femmes, and I hope You'll message me about the special offer.