Hi, everyone. I know it's been a while, and yes, I've been negligent in blogging. There's just so much going on it's difficult to focus. I think many of you know what I mean. But I do want to tell you that I'm now the host of two interview shows. One is with the Authors on the Air Radio network, and my show, as some of you know is Second Sunday Crime.
But I have another gig too, and the big news with that one is that we are now on Facebook Live! The show is SOLVED! and it's produced by AuthorsVoice.net, part of the Abraham Lincoln Bookshop in Chicago. I'm celebrating the end of my first year with them. So I thought I'd repost some of my shows here for you to watch at your leisure. (They're on YouTube as well.)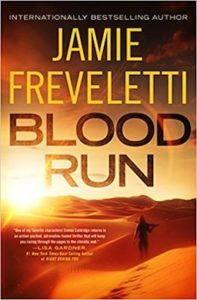 So, herewith is my January 4th interview with thriller author Jamie Freveletti. Her new novel is BLOOD RUN. In it she brings back her bio-scientist Emma Caldridge in an action-packed story set in Africa near the Sahara Desert.
Enjoy!!