Co-authoring with prominent authors or their estates (when they're no longer with us) is a fast-growing trend for crime authors. Many are following the James Patterson model, who released 15 novels in 2014 alone.
"23 other authors have been paid out of Patterson's own pocket to write them for him. It is not a fact he hides: every novel that is written by somebody else declares so on the cover, under Patterson's name. Patterson is responsible for the vision and plotline of each novel and series and will give a detailed outline to the hired writer in question. The co-author, some of whom are struggling, others bestsellers in their own right – such as Swedish author Liza Markland – will then draft the early chapters. Patterson will read, revise and demand new drafts until he is satisfied." 
But he's not the only author to "collaborate." Ace Atkins and Reed Farrell Coleman are writing Robert Parker books. Although Parker died in 2010, Boston PI Spenser and Jesse Stone, the police chief in Paradise, live on. In fact, both Ace Atkins's third Spenser novel Cheap Shot, and Reed's first Jesse Stone novel Blind Spot, shot up the bestsellers lists, and they were contracted to write more.
When asked about the challenges of writing as Parker, both authors talked to Mystery Scene Magazine about the process.
According to Atkins, "The expectations of fans and the high quality of Bob's work. After all, he was a true master. As a longtime fan, you try not to think whose running shoes you're trying on. To paraphrase what Spenser says to Sixkill in Bob's last novel, just do the job you've been training to do. I'm now on my 16th novel and the fourth Spenser."
Coleman said: "It's a bit of a high wire act to take over a successful series from anyone, but especially from one of the most gifted, well-loved, well-respected authors in the genre's history. The greatest challenge for me was not to focus on whose shoes I was trying to fill and to approach Blind Spot the way I would approach any of my other projects. That is to say, to write the best book I could write."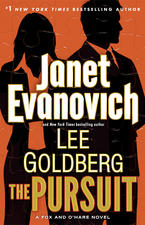 Janet Evanovich and Lee Goldberg share almost equal bylines. The two writers co-authored the Fox and O'Hare adventure/caper novels, creating The Heist, The Chase, The Job, The Scam, The Pursuit (out in June ) and a couple of E-shorts. Janet has also co-authored "Knight and Moon" adventures with Phoef Sutton, as well as a series of romances with Charlotte Hughes, Leanne Banks, and Dorien Kelly.
Crime thriller author Joel Goldman and Lisa Klink are at it, too.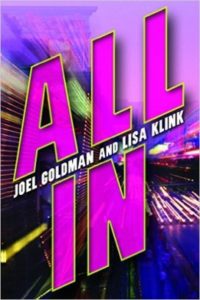 Joel is the bestselling author of the Lou Mason, Jack Davis, and Alex Stone thrillers. Lisa Klink comes from the world of Star Trek, writing for Deep Space Nine and Voyager before moving on to Martial Law and Missing. The novel All In is the result.
JT Ellison and Catherine Coulter co-author novels, and in early 2011 thriller author Jamie Freveletti was approached by the estate of Robert Ludlum to write the next in the Covert One series. Called The Janus Reprisal, it came out in 2012, followed by another, 2015's The Geneva Strategy. In her characteristically modest way, she said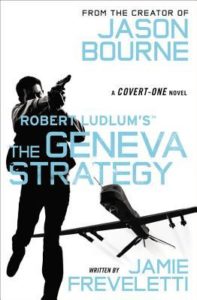 "It was a high-pressure task. I tried to act cool, but inside I was thinking constantly about the Ludlum novels that I'd read. Would I be able to come close to his fast paced and engrossing writing style? Was I crazy to accept? And if I did accept and wrote the book, would the fans embrace me?"
Tie-Ins, Too
Even best-seller Jeffrey Deaver got into the act by writing a new Bond story with the James Bond estate. Over 100 million Bond books have been sold and more than 50% of the entire planet's population has seen a Bond film. Ian Fleming himself only wrote 14 James Bond books, but official James Bond novels have been written by Kingsley Amis, John Gardner, Raymond Benson, Sebastian Faulks, and William Boyd.
Through Lee and Raymond I discovered there is a special association for "Tie-In" writers, who "novelize" movies, continue a series, or otherwise extend the life of a well known brand.
The pros and cons of co-authorship
On the plus side, there's good money, sometimes great money. Of course, I'm not privy to the contractual side of things, but I assume each contract is different. Some co-authors may get royalties, while the others have a work-for-hire arrangement. It's also an excellent opportunity for midlist authors to get their work in front of huge audiences and thus boost their brand.
On the down side, collaborative writing takes a certain personality, someone willing and able to let go of their own style and adopt or merge with another's. There's also the matter of creative conflict between the authors, or misunderstandings between the co-author and the primary author's estate. Consistency might prove a tricky issue – it can be tough matching the author's writing AND working style with flair, confidence and success. There can be criticism from fans who are not fond of novels that imitate others, and it might be a bridge too far for writers with an independent spirit or don't enjoy compromise.
All told, though, it's an excellent way for an author to advance their career. And it seems to be a trend that's lasting.
What's the best co-authored novel you've read?
Have you read a co-authored book that was totally convincing? Maybe you've read one that didn't work for you. Either way, I'd love to hear about them.