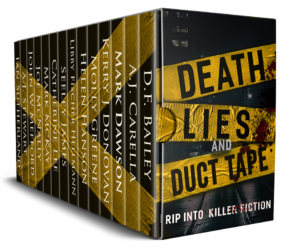 This is a GREAT DEAL… but act fast!! The price goes up to $9.99 Sunday night. Enjoy!!
**SALE***
14 THRILLERS by 14 AUTHORS at the TOP OF THEIR GAME for ONLY — 99 ¢ !
GIANT BOX SET — RIP INTO KILLER FICTION . . .
DEATH, LIES, & DUCT TAPE
This amazing collection of 14 critically-acclaimed thrillers were written by some of the best thriller writers today. This library of best-selling books is only 99c.
Don't miss out!
Check out this collection of murder and intrigue:
Don Bailey – Bone Maker
A.J. Carella – True Deceit
Mark Dawson – The Cleaner
Kerry J. Donovan – The DCI Jones Casebook – Sean Freeman
Molly Greene – The Mark Of The Loon
Helen Hanson – 3 Lies
Libby Fischer Hellmann – Havana Lost
Seeley James – The Geneva Decision
Catherine Lee – Dark Heart
Mark McKay – A Terminal Agenda
Joe McNally – For Your Sins
John W. Mefford – AT Bay
A.J. Stewart – Stiff Arm Steal
Ian Sutherland – Social Engineer
**BUY LINKS**
http://smarturl.it/AmazonDLAD
http://smarturl.it/BNDLAD
http://smarturl.it/KoboDLAD
https://geo.itunes.apple.com/us/book/death-lies-duct-tape/id1182601945?mt=11