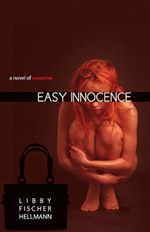 NB: Just wanted to let you know that the response yesterday was so overwhelming that I had to take it off free for the rest of today. I'm very sorry for the inconvenience, and I understand if you're miffed. Still, to all those who downloaded it yesterday (over 16,000 of you.. ) a sincere THANK YOU. I hope you enjoy the read.
Hi, all. Just wanted to let you know that I enrolled EASY INNOCENCE in the KDP Select program, and it will be free for 2 days: Wednesday and Thursday, Jan. 4 and 5. If you're not familiar with it, here's more than a little info. Hope  you'll give it a read.
Description:
When pretty, smart Sara Long is found bludgeoned to death, it's easy to blame the man with the bat. But Georgia Davis — former cop and newly-minted PI — is hired to look into the incident at the behest of the accused's sister, and what she finds hints at a much different, much darker answer. It seems the privileged, preppy schoolgirls on Chicago's North Shore have learned just how much their innocence is worth to hot-under-the-collar businessmen. But while these girls can pay for Prada pricetags, they don't realize that their new business venture may end up costing them more than they can afford.
Reviews:
"Hellmann brings to life the reality of  bullying among teenage girls with enough twists and turns to keep you reading. Highly recommended."
–Library Journal (Starred Review)
" Just what's needed in a mystery… Depth of characterization sets this new entry by Hellmann (A Shot to Die For, 2005, etc.) apart from a crowded field." –Kirkus Reviews
" There's a new no-nonsense female private detective in town: Georgia Davis, a former cop who is tough and smart enough to give even the legendary V.I. Warshawski a run for her money. "–Chicago Tribune
"Hellmann's vast knowledge of the area and ability to dive deep into her characters give her the authority needed to create a suspenseful and gripping story." –CrimeSpree Magazine
"This was a book I could not put down, reading it cover to cover during the course of one day.  The reader is drawn into the story immediately, and the wonderful writing makes the characters come alive." –Midwest Book Review
Author Q&A
Q–How did you happen to write a story and plot like EASY INNOCENCE?
A– Some books come from a vision. Others from personal experience. EASY INNOCENCE came to me out of fear. My daughter was starting high school, I was recently separated, and I doubted my ability to be the single mother of a teenage girl. A hazing incident at a nearby high school had just occurred — it made the national media — and several teenagers ended up in the ER. I started to wonder what would have happened if a girl had been killed instead.
Q–As a single parent how did the research and findings on teen prostitution affect you?
A– It was sobering. Not so much the fact that teen prostitution exists — I knew that. But the fact that girls from seemingly stable middle-class families were hooking for money to buy designer clothes, toys, and gadgets — that was a shock. I started to wonder what that said about the lengths girls go to in order to be accepted by their peers, as well the values we're teaching our daughters.
Q–Did you include the teen prostitution angle because you were a writer developing a plot or because you were a mom trying to send a message to other parents? A– It started as a plot device. EASY INNOCENCE unfolds in layers, like the peeling of an onion. Readers first suspect the girl's murder is related to the hazing. But I knew from the start it would turn out to be something else, and when I came across the "suburban prostitute" angle, I knew that's where the story had to go. There's yet another twist, as well, that unfolds later in the novel. I hesitate to say I'm sending a message, because that sounds patronizing. If readers find one, though, I won't be disappointed.
Q–How much of a problem has teen prostitution become?
A– Let's call it "suburban prostitution." It's hard to say, because there are no reliable numbers. Police believed it was on the upswing five years ago, especially on the East coast, but I haven't heard much about it recently. But I do have anecdotal "evidence" (articles and news reports) that shows it cropping up in suburban Chicago and Minnesota in 2007.
Q–Was this a difficult story to write because you are a mom of a daughter?
A– It wasn't, because I have a tendency to compartmentalize. The girls I was writing about weren't — and never would be–  my daughters' friends, so I could conceptualize them without impunity. I will confess that the trickiest part was rendering Lauren Walcher's (the teen madam) mother. It took me a long time to think about the type of woman whose daughter would become a madam.
Q–Some readers will be surprised they aren't just picking up a typical mystery thriller won't they? This has an entirely extra layer that is dark and alarming.
A– I didn't think about that when I was writing the story, but when it was finished, I did wonder how readers would react. If they'd even believe it. That's why I've made the links to some of my research available. It does happen, perhaps not quite in the same way I've written about, but the issue is one we need to think — and talk — about. What are we teaching our daughters? What example are we setting ? And what can parents do to make sure their daughters don't end up in that place?