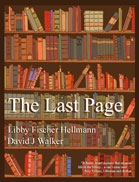 In my quest to write my way around the genre, I have co-written a cozy mystery novella, THE LAST PAGE, which is set in a library. David J Walker, a fine Chicago author, was my partner in crime. Librarians, take note: We kill the library director.
I entered the story into the Amazon Select program which means if you are a Prime member, you can get it free. If you're not, fear not. It will go free on Amazon for everyone December 25 through December 27.
Here's more information:
"A funny, smart mystery that respects life in the library… a can't miss read…"Amy Alessio, Librarian and Author
Barbara Adams, head of the Windbrook Library in suburban Chicago, has died, apparently from a fall down the stairs of the library's basement. But when Julia Fairbanks, her closest friend's daughter starts to poke around, she finds troubling emails that indicate Barbara was not the victim of a heart attack, but a vicious killer instead. Can Julia find the murderer? Or will she end up on The Last Page? This breezy mystery is a novella, approx. 20,000 words. It also includes two short stories by the authors, both from the acclaimed crime fiction anthology, CHICAGO BLUES.
About the Authors
Libby Fischer Hellmann is the Anthony-nominated author of 9 crime fiction novels, including the Ellie Foreman suspense/amateur sleuth series,  the harder edged Georgia Davis PI series,  and the acclaimed stand-alone thriller SET THE NIGHT ON FIRE. All her books, including short stories, are available on Kindle. David J. Walker is the Edgar-nominated author of 11 crime fiction novels, including the hard-boiled Mal Foley PI series, the Wild Onion PI suspense series, and a stand-alone thriller, SAVING PAULO.  Both authors live in the Chicago area. THE LAST PAGE is their first "cozy" mystery. They invite you to find out more about them at libbyhellmann.com and davidjwalker.com.
Reviews
"The action moves along at a fast clip and I didn't want to put it down."
"I found this short novella about a suburban Chicago library quite accurate… fans of mysteries will appreciate the diverse characters and witty dialogue."
"This quick read is a wonderful way to escape for an evening. And to be honest, those of us who work in libraries often wonder why more homicides don't occur here."