Hi, Readers.
Many of you entered my recent Giveaway for Advanced Reader copies of HIGH CRIMES, my 15th crime thriller and the 5th Georgia Davis story. If you didn't win a copy, I'm sorry. But you can still preorder a copy for just $2.99 from the retailer of your choice. After it's released on November 13, the price goes up to $5.99.
I hope you'll take a look at it. It's set fourteen months after the 2016 election when Chicago PI Georgia is hired to investigate the murder of Resistance activist Dena Baldwin. It was a story, that once it came to me, I had to write. I hope you'll like reading it. There are already eleven reviews on Goodreads, and most of them are, happily, positive.  Here's more: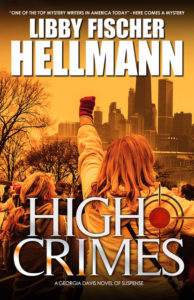 How do you solve a murder when there are 42,000 suspects?
That's the task facing Chicago PI Georgia Davis, hired to hunt down those ultimately responsible for the assassination of Resistance leader Dena Baldwin at a demonstration
fourteen months after the 2016 election. The gunman, on a nearby hotel rooftop, dies within minutes of the shooting.  As Georgia sifts through Dena's 42,000 Facebook followers, she discovers that unknown enemies hiding behind fake profiles have infiltrated the group. She finds others who will do whatever it takes—including murder—to shield right-wing, wealthy elites. When Georgia begins piecing together the facts, relatives of both victims mysteriously disappear, and the danger escalates. Threats and bruises have never frightened Georgia, but she's side-swiped by the sudden reappearance of the mother who abandoned her when she was a child. Can she survive an emotional family crisis at the same time she pursues killers whose only goal is to protect themselves?
I hope we can stay in touch. Feel free to follow me on Goodreads. I try to state up to date. And if you have any questions, be sure to ask on my profile page!
Finally, here's a peek at the book trailer.