Note: If you know about this case, I hope you will keep an open mind and read on.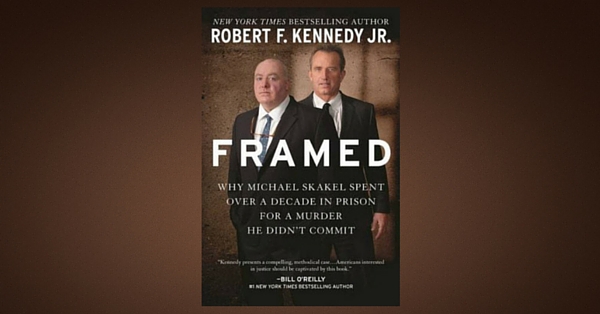 Tuesday, July 12, 2016, is the on-sale day for a true crime book written by Robert Kennedy, Jr. As some of you know, Michael Skakel and Bobby Kennedy, Jr. are first cousins. Michael's late father "Bucky" and Bobby's mother, Ethel Kennedy, were brother and sister. But probably just as many of you are young enough to have NEVER heard about this crime. Here's the 411, which I've taken from the book description (the parentheses are mine):
On Halloween 1975, Martha Moxley (she was 15 years old) was found brutally murdered outside her home in swanky Greenwich, Connecticut. Twenty-seven (yes, that's right… 27) years after her death, the State of Connecticut spent some $25 million to convict her friend and neighbor, Michael Skakel, of the murder. At Michael's criminal trial, the State offered no physical or forensic evidence, no fingerprints or DNA, no eyewitness linking Michael to the killing. The trial ignited a media firestorm that transfixed the nation. (Btw, Mark Fuhrman, of the OJ Simpson trial, was intimately involved in the case… who knows why.)
Now, Skakel's cousin, acclaimed attorney and award-winning writer Robert F. Kennedy Jr. solves the baffling whodunit and clears his cousin's name.
Kennedy, with meticulous research and reporting, proves that Michael Skakel did not and could not have murdered Martha Moxley. He chronicles how Skakel was, nevertheless, railroaded amidst a media frenzy by the devious actions of a crooked cop, a trio of mendacious writers, a treacherous family lawyer nursing a secret grudge, a narcissistic defense attorney obsessed by the spotlight, a craven prosecutor gone rogue, and a parade of perjuring witnesses. These colorful characters leap off the pages like seedy villains in a dime-store crime novel… But it's all true.
Why am I bringing this up? If you're a crime thriller writer or reader, you might be interested that I was asked to read an advance copy of the book for a review blurb, which appears on the back cover of the dust jacket. (The story of how that happened is worth a blog post of its own… sometime.) The blurb I wrote was shortened, but here's the entire thing:
Crime thrillers and true crime stories, while quite different, have a similar objective: to show how justice is served. FRAMED by Robert Kennedy Jr. combines the best of both with a powerful story that grabbed me in the first few pages and wouldn't let go. Kennedy meticulously torpedoes the case that convicted his cousin Michael Skakel of murder by painting a decades-long horror show of incompetence, prejudice, malfeasance, and outright misconduct. What I didn't expect, though, were the feelings that surfaced while I was reading. Kennedy took me from rage to tears at the injustices suffered by his cousin and family. FRAMED is a must-read for anyone who cares about our judicial system.
Now,  I do realize that practically no one in the world is neutral about the Kennedy family. But before the cynics among you jump all over me, read this blurb from Bill O'Reilly:
"Kennedy presents a compelling, methodical case… Americans interested in justice should be captivated by this book."
Although I am old enough to remember the crime and the prosecution of it, I was literally blown away by the story. This is an important book;  it was published by Skyhorse Publishing. I hope you will read it.