It's not unusual. But this time around the literary circus surrounding the 2016 election is unprecedented. And that includes books about the most controversial political figure of our lifetime. Trump's personal manifesto alone, 'Crippled America: How to Make America Great Again', sold 235,000 hardcover copies in just eight months. In addition, a raft of old Trump biographies have been resurrected to meet demand. And there's a load of new work in the pipeline examining the man from a host of creative and overwhelmingly hostile angles. In fact, an Amazon search for 'Trump' books came up with 5,081 results. Really. Here are just some of them.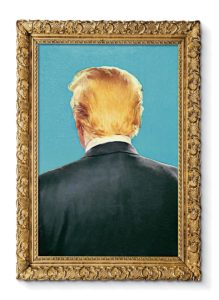 The Art of the Deal by Tony Schwartz
Of course, we have to start with this one, which, although purporting to be authored by Trump, was entirely ghost-written by Tony Schwartz . Schwartz recently told the New Yorker, that, in retrospect, the man has no attention span, and is a classic narcissist, not to mention sociopath. He wrote the book almost twenty years ago. It became a best-seller and he made a LOT of money from it. Now, though, he regrets it all. Of course, the Donald has sued him.
The rise and rise of Trump – 'The Day of the Donald'
'The Day of the Donald', by NYT bestselling author Andrew Shaffer, is a faux thriller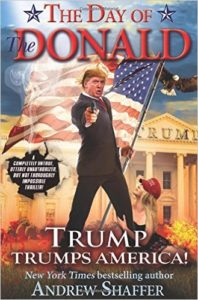 billed as 'completely untrue, utterly unauthorized, but not thoroughly impossible.' The Washington Post described it as, 'A clever spoof that, depending on your politics, will make you laugh or cry…The Day of the Donald perfectly channels Donald Trump's voice, rhetoric and ego."
It's the summer of 2018, and President Donald J. Trump is in office. The Great Wall of Mexico is well under way, funded by Mexico. Folk have more money thanks to lower taxes and a series of 'creative' tactics to raise money. While some call the President a despot, the American people love the way he bullies Congress.
When Trump's original biographer turns up dead, Jimmie Bernwood, the man who published the infamous Ted Cruz sex tape, takes his place. He gets down and dirty with genuine investigative reporting to solve a run of grisly murders, on a mission to ultimately save the nation. The results are both hilarious and terrifying, a disturbing combination and a little too close to the truth for comfort.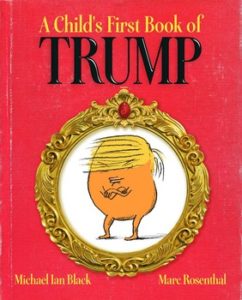 Micheal Ian Black's 'A Child's First Book of Trump'
What do kids think about Trump? Comedian Michael Ian Black has written a brilliantly funny parody of a children's book about the American Trumpus, a strange creature you might spot running around in the wild during the election season.
The New York Times bestselling author and comedian invents the bombastic, swaggering Trumpus, an animal with bright orange skin, a plump figure, complex all-enveloping fur and underdeveloped hands. Crafted in his well-loved picture book style, and peppered with wit, Black explores the Trumpus and its 'mystifying campaign for world domination'.
M G Anthony's The Trump Coloring Book
As the old adage goes, "You have to laugh, or else you'll cry". If you're in despair over the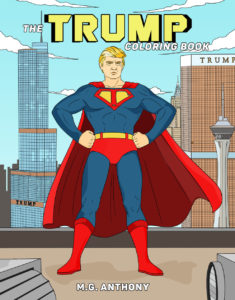 whole crazy Trump-fest, console yourself with a therapeutic coloring-in session. M G Anthony's fabulous 'Trump Coloring Book' is just the ticket. As Amazon says, 'Whether he's crossing the Delaware or playing chess with Putin, see Donald Trump like you've never seen him before! Over 50 drawings of Trump for you to color—any way you want!'
August's release of The Making of Donald Trump
There's serious stuff out there too. If you find yourself fascinated by Trump, albeit in a horrified kind of way, there's plenty to learn. Publisher Melville House is set to launch 'The Making of Donald Trump' thanks to David Cay Johnston, the Pulitzer Prize-winning investigative reporter. The book examines Trump's extraordinary real estate triumph and explosive entry into to politics, a meticulously researched, fact-filled feast of detail painstakingly stitched together from decades of material, including interviews, legal records and financial information.
A new take on old titles – TrumpNation: The Art of Being the Donald
Timothy O'Brien's 2005 book 'TrumpNation: The Art of Being The Donald' got him hit by a five billion dollar lawsuit, although the author was not found guilty of defamation. After the candidacy was announced, O'Brien contacted them about updating the paperback and digital editions. Publisher, Grand Central Publishing, was skeptical at first, but when Trump exploded onto the political scene in the primaries, they updated the book with new details about his finances and a fresh introduction by the author.
Other books also deserve a come-back, like the out-of-print 1993 unauthorized Trump biography by Harry Hurt 111, 'Lost Tycoon: The Many Lives of Donald J. Trump', a blistering expose of his personal life and financial troubles. The publisher declined to republish in case of a lawsuit, and the rights were returned to the author. An original copy could cost you as much as $350 on Amazon. But Echo Point Books & Media, a Vermont publisher, is running a Kickstarter campaign for $5,000 to fund a short print run of the book, being touted as, 'The book that Donald Trump doesn't want you to read'.
The last word goes to Mr. Hurt, who hopes the book will get funded and printed soon. In his words, "Time's a wasting. Hopefully this time next year, nobody will want to read about Donald Trump."
We can only hope.