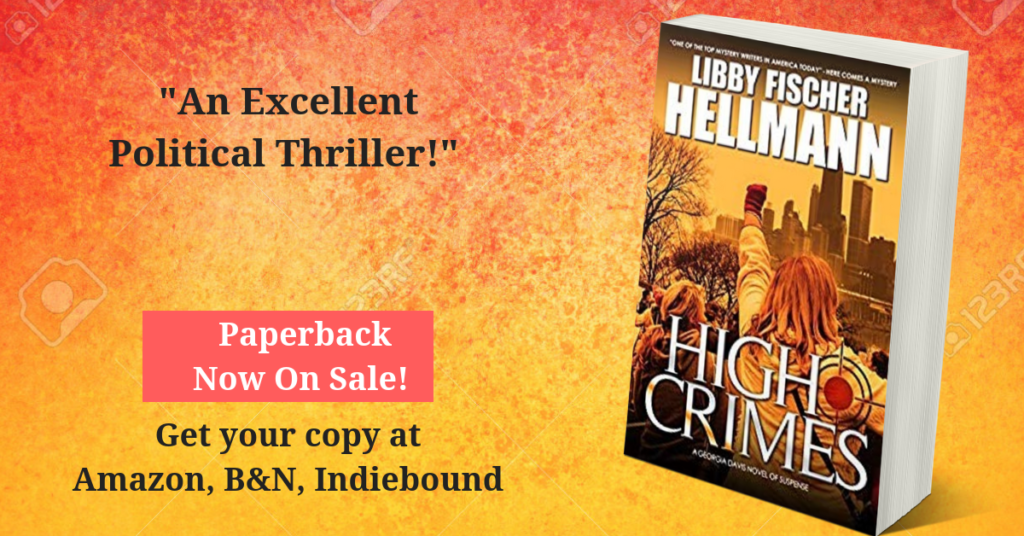 Hi everyone. Big day here: HIGH CRIMES is now on sale in paperback!  You can find it at these retailers:
If you're a bookseller or librarian, HIGH CRIMES can also be found on Ingram​​​​, and it IS returnable. I hope you enjoy the read. I'll let you know when the ebook and audiobook are available.

What early reviewers are saying

"In this ripped from the headlines and rocket-paced thriller, Libby Fischer Hellmann is at the top of her game. You won't stop turning the pages, gripped by every twist and turn. And the tough, smart Georgia Davis is sure to take her place among the top female PIs in crime fiction." Lisa Unger NY Times Bestselling Author of UNDER MY SKIN 
"Entertaining…(Georgia is) a shrewd investigator… for readers who watch the nightly news with dismay, the novel offers a satisfying alternate reality."Publishers Weekly
"HIGH CRIMES is the P.I. novel for our moment, not just because of its backdrop of political tension, but because of the resilient strength of its characters. Georgia Davis is a terrific lead, and Libby Fischer Hellmann calls on her own journalism background to add layers of realism to this all-too plausible plot." Michael Koryta, NY Times Bestselling Author of HOW IT HAPPENED

BookLife Talks to Libby Fischer Hellmann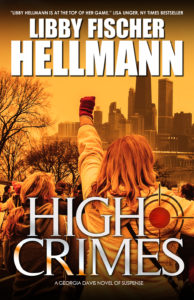 Here's an excerpt of an interview I did with PW's BookLife last week (October 19) about HIGH CRIMES.
What's different about High Crimes from your previous books?
High Crimes was personal. After Nov. 8, 2016, I spent an entire year in a state of semiparalysis. I couldn't write. I couldn't talk about anything but the election. Eventually, I realized that I had given the occupant of the Oval Office all my power, especially where my writing was concerned. I brainstormed two different novels, but they just didn't resonate. Then came the eureka moment. A few days after the election, I'd joined a resistance Facebook group, which eventually grew to 42,000 members. Now I asked myself, "What if the leader of a sizeable resistance Facebook group was assassinated? Who would have done it and why? And what if Georgia Davis was hired to look into it?" From that point on, the story took off.
Tell us a little about Georgia Davis, your series, and how the events in High Crimes test her mettle. 
​​​​​​​Georgia was a cop when she first appeared in my Ellie Foreman series. But as soon as she walked onto the page, I knew she would have her own series. She is completely apolitical. If anything, she leans toward the conservative side. Although there is a political slant to High Crimes, Georgia helps make it evenhanded. She also has a finely tuned sense of justice, which allows her to take risks that the rest of us would find unacceptable.
What is the one thing you most want to say about you or your book? 
High Crimes is a mystery that goes right to the heart of the huge, ongoing conflict with which we're grappling as a nation. There are no heroes in this novel, either on the left or on the right, but there is Georgia, driving the story toward justice.