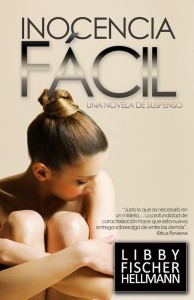 I'm delighted to announce that EASY INNOCENCE, probably my best-selling thriller, is now available in Spanish! If you have Spanish reading friends, I hope you'll forward this to them.
I've set up a page in Spanish on my website with more info here. But following is an edited version.
Cuando encuentran a la bella e inteligente Sara Long apaleada a muerte, es facil inculpar al hombre con el bate. Pero Georgia Davis, expolicia y recientemente convertida en investigadora privada, es contratada para indagar el incidente por peticion de la hermana del acusado, y lo que ella encuentra hace alusion a una respuesta diferente y mucho mas sombria. Al parecer, las privilegiadas estudiantes del secundario en la Costa Norte de Chicago han aprendido cuanto vale su inocencia ante los hombres de negocios en busca de excitacion sexual. Sin embargo, mientras estas chicas pueden permitirse el lujo de pagar precios de Prada, no se dan cuenta que su nuevo emprendimiento puede terminar de costarles mas de lo que pueden pagar.
Biografía del autor: Libby Fischer Hellmann es la autora nominada para el Anthony, que ha escrito nueve novelas ficcionales de crimen, incluyendo la serie de suspenso de la detective amateur Ellie Foreman. Los libros de Ellie, los cuales Libby describe como una mezcla entre "Esposas Desesperadas" y "24", incluyen AN EYE FOR MURDER, A PICTURE OF GUILT, AN IMAGE OF DEATH, and A SHOT TO DIE FOR. Libby también escribió la serie premiada de la insensible investigadora privada Georgia Davis, (INOCENCIA FÁCIL, DOUBLEBACK, y TOXICITY) y de la aclamada novelas de suspenso independiente SET THE NIGHT ON FIRE y A BITTER VEIL. Todos sus libros, incluso sus dos colecciones de volúmenes de historias cortas están disponibles en Kindle.
INOCENCIA FÅCIL is available from Amazon as an ebook AND a paperback.
In addition, it is available on Barnes and Noble as an ebook on Nook as well as a  paperback.
For Kobo users, you can find it here.
And iBooks users can find it here, although it's on 25 international iBooks stores as well.
Finally, it will soon be available through Overdrive, too.
Gracias!