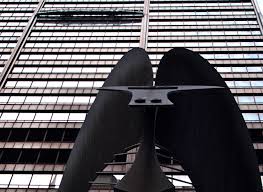 My daughter has been called for jury duty next week, and yesterday sent out a message to my newsletter recipients with a link to my original blogpost about the My Day at the Daley Center back in June.
Turns out several people have their own stories about serving on a jury in Cook County, so I thought it would be fun for you to read one or two. This is Chicago, after all.

From Linda:
I was on a jury. It was a case about a lease validation. A medical center was renting a building on North Ave. for $375 a mo. A seven year option. I knew where it was. I passed it on the Ogden Ave. bus every day going to and from Cook County Hospital  where I worked as a lab tech. Well, it was a long trial. Lots of windy arguments about that nasty medical center which obscured the  real issue of  "Was the signature on the lease legit?" We found that for the defendant. The Medical Center could stay!!!  
Now… Wait for it.
That  was in October. In December, I was riding home on the Ogden bus. I heard fire alarms. I had a feeling they were headed to that building. They were!  I jumped up and said "Well, that's the Cook County justice system for you. If you can't get 'em in court, burn 'em out!" No one on the bus knew what I was talking about.
I love Chicago! And I miss it since I married at 68 and moved to St. Louis.  I thought you would appreciate the irony of that story.
I think everyone can appreciate it, Linda.
 From Anne:
I served in the criminal court (the one at 26th & California) a while ago.  We found the defendant not guilty.  I was the jury forewoman.  After the judge cleared the court, except for the jurors, he spent the next 45 minutes telling us off for not finding the defendant guilty…I soooo wanted to tell HIM off!  But, it IS Chicago, which can be intimidating!
Why am I not surprised?
Do you have a good story about serving on a jury? Let's hear them!