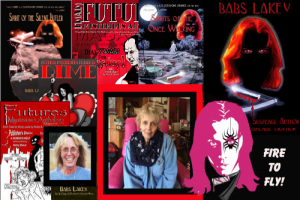 As you will note, my most recent post was about giving away some short stories to celebrate my birthday. (It's today, actually, and thanks to everyone who left a FB greeting – you rock!) Anyway, those of you who know me understand how much I love short stories  and how helpful they are for an author's career. 
One of the people who gave me my start in publishing short stories was Babs Lakey. She created and ran a wonderful fiction magazine called FUTURES, for about ten years. It wasn't a high circulation endeavor, but it was all fiction, and she was known to give writers like me, a newbie at the time, a chance to submit stories. Several of my short stories were either published or republished in FUTURES. But that was only part of Babs' work. She was—and is—a tireless cheerleader for fiction writers. She was active in the Short Mystery Fiction Society, and I remember whenever I was feeling down and depressed, she was unfailingly supportive and encouraging. I will never forget her cheerfulness and enthusiasm.
Well, life's a bitch and FUTURES eventually folded, after the magazine drained most of her savings. I lost touch with Babs after that—until quite recently. The news came that Babs is not well. Babs was diagnosed with a string of disabling ailments including Syringomyelia, the rare spinal column cyst that painfully affects any and all of the body's nerve endings and Sjögren's Syndrome, which dries all saliva and makes throat, mouth, teeth, eyes, skin etc., a nightmare, and brain lesions. She also suffers from MS and Kidney Disease, as well as serious bladder & bowel problems.
Plus she's in need of permanent housing, because the place where she lives is going condo. Bottom line: she needs financial help. A Go-Fund-Me program was set up for her. It's doing okay, but it could use a shot in the arm.
So I'm shamelessly asking any of you who knew Babs and remember Futures to consider a donation to the Fund. Even if you don't know Babs but want to support someone who supported writers so tirelessly over the years, it would be wonderful if you could see your way toward a contribution.
It would mean the world to her… and those of us who know her and appreciate what she did for our careers would thank you from the bottom of our hearts.
Click here to go to the campaign.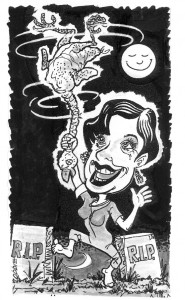 You'll find much more about Babs and the people who worked with her, including James Oddie, a cartoonist in the vein of Robert Crumb and Zap Comix. We called him Toon-Man. Here's one he did of me. Yes, I'm swinging a chicken around in the air — it's a long story. And I still wear dangly earrings. Btw, Toon-Man is willing to donate an anthology of his work to anyone who contributes $100 or more to Babs' campaign. She deserves so much more than she's getting.
Thanks for reading this far. I hope you'll check out the link.