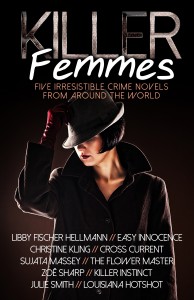 This might be called "How To Screw Up a Google Hangout… and then Fix it Afterwards"
You see, we were planning a cool event for the Killer Femmes Bundle I'm a part of.  We were going to do a Google Hangout and talk about "The Secrets to Writing a Series." Four of the five of us were on board, including Chris Kling, Sujata Massey, and Julie Smith.
I've conducted and participated in several HOAs over the past 6 months, so I was planning to be the host. We did a dry run 2 weeks before the event, and everything was perfect. After that I created the event and invited the world to attend. Nearly 50 people said they'd come.
So, the day of the HOA everyone put on make-up and looked beautiful from the waist up. We met online half an hour early to check our "lower third" supers and prepare ourselves.
And then it happened. Five minutes before it began, I realized I'd started the wrong kind of Hangout. Not a Hangout on Air. Just a Hangout online. No recording. No video or document of our conversation. I also forgot to activate the Q&A button. After all the preparation, and all the publicity, you can imagine how I felt. The sinking feeling in my gut… check. The sweaty palms… check. The racing heart… Yup.
I told the other Femmes we needed to start a NEW hangout and to look for a new invitation from me within a minute or two. Then I ducked out. The others weren't quite sure how to stop the Hangout they were on and join me on another, and it all fell apart. The result was pretty dreadful. We ended up having two hangouts, neither of them watched by very many people.
It was all my fault. I felt awful. Had a meltdown. Drank a lot of wine. Felt like beating the dog. Then I had an idea.
Could I try to make chicken salad out of chicken—er—feces? What if I interviewed each Femme individually on video, edited everything down on iMovie, and uploaded the finished 30 minute or less show to YouTube? I managed to get Sujata and Chris to agree, and… FINALLY… the video that should have been the HOA is now live on the HOA event page. Here it is.
It's not perfect (A couple of edits could be smoother), but it's better than I thought it would be. And you know what? Turns out we did have some secrets to share about writing a series.
If you were invited and didn't see it, now you can. And if you weren't invited or didn't have a chance to look at it, please do. You can find it at You Tube here.
Just don't ask me to host a Hangout for a while.