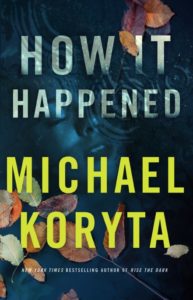 Hi, all. I just realized I haven't told you that I've been hosting a monthly TV interview show called SOLVED! for the past 18 months. (Talk about being late to the party…)
SOLVED! is a one of several shows produced by AuthorsVoice.net, which is owned and operated by the Abraham Lincoln BookShop in Chicago. We broadcast on Facebook LIVE after which each episode goes up on YouTube as well as the Facebook page of Authors Voice.
Yesterday, May 22, I was lucky enough to interview the fabulous Michael Koryta, whose new thriller, HOW IT HAPPENED, just came out. It's a stellar read — I couldn't put it down. So I invite you now to watch the interview — and then run out and by the book. You can get a SIGNED copy from Authorsvoice.net!