Hi, all. I know it's been forever since I've blogged– I guess I didn't have much to say. But I'd like to fill you in on my current WIP (Work in Progress), otherwise known as the "blankety-blank manuscript."
When I started writing over twenty years ago, I challenged myself to actually finish a novel. I did, but it was pretty awful – so bad, in fact, that I keep it under lock and key. Since then, I try to challenge myself with every story I write. Whether it's the setting, the time period, a character, or the situation, I need to feel a little spark in my gut that tells me, yes, this is the story you should try. I say "try" because even now, I'm not at all sure I'll succeed. But as long as I feel passionate about a story, I keep at it.
That's why I'm writing my first non-mystery. It will still have plenty of suspense, but it's essentially a story about two Vietnamese sisters trying to cope during the Vietnam War and the years afterwards. The sisters are estranged through most of the book, and I tell their stories separately. One becomes a bar girl at a nightclub in Saigon; the other fights for the Viet Cong. At the risk of taking on hubris, I think of it as a Vietnamese Nightingale.
Why Vietnam 50 years after the fact? Mostly because we Americans still see the war through our own lens: the draft, the anti-war movement, the hippies, Agent Orange, Nixon's election. But what about the other side? How did the Vietnamese see it? What were the repercussions on them, during and after when the Communists took control?  I wanted to explore it through their lens, particularly since so many Vietnamese ended up in the United States themselves. Btw, I already had the idea for the story, but then I saw this painting in Saigon (Ho Chi Minh) city. I had to get it; I think it could be part of the cover, don't you?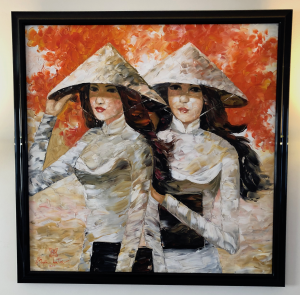 Don't worry — this isn't a political book by any means. Many of you know I often gravitate to writing about women who have run out of options. Who are up against the wall and have to do whatever they can to survive. This is one of those stories. The two main characters face almost unsurmountable obstacles from the first chapter on. It's an adventure story, a character study; hopefully it will tug at your emotions.
I'm about 150 pages into the manuscript, and I hope to finish a first draft by the end of the year. Maybe it will be out in 2020…maybe in 2021. Not sure yet. I'll keep you posted. Would you like to read an excerpt? LMK, and I'll post one soon.