Welcome to Audiobook Week. I mean, it is August, so the alliteration works, right? Actually, it happens that I do have some special things going on with  my audiobooks this week, and I wanted you to know about them.
Today (and every day if you haven't joined Audible.com) you can get your first audiobook FREE… and I'd love to help you join by telling you about one of my favorite Georgia Davis books, TOXICITY.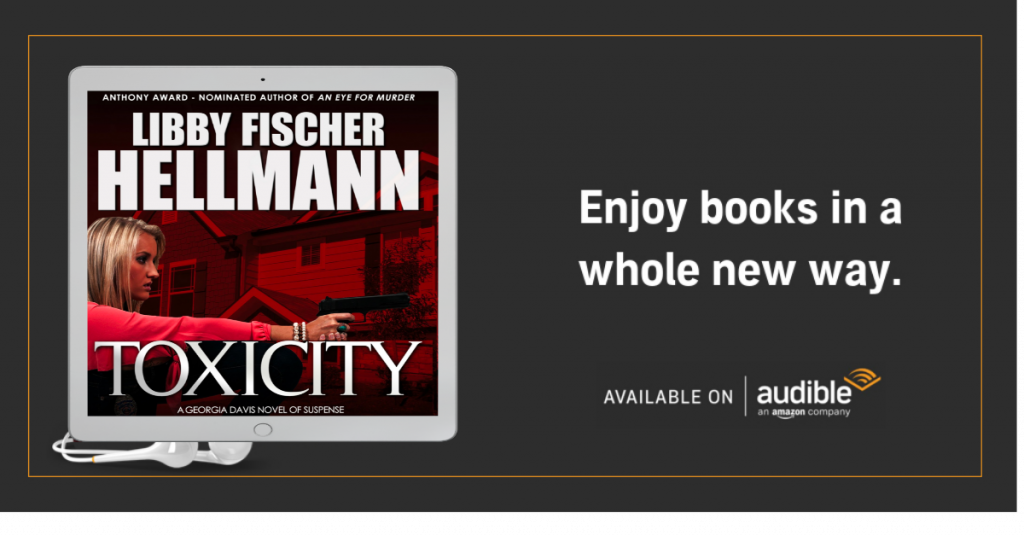 TOXICITY, the 3rd Georgia Davis thriller is a prequel to the series, set when Georgia was still a cop in the Chicago suburbs. In this story, you'll meet Georgia when she and Matt Singer, already a detective, were an item. The crimes they're investigating turn out to be those of a serial killer, and the police are stumped.  Because Georgia is still a uniform (and a woman), her work on the case takes a back seat to Matt and John Stone's, but eventually her instinct proves to be indispensable to solving the case.
Derek Shetterly and Beth Richmond are my fabulous narrators, and here's a sample of Derek in the first chapter.
Remember, if you've been thinking about getting into audiobooks, this is a FREE, painless way to start. I listen to more than half my books on audio these days — on long car rides, when my eyes are tired late at night, on walks, or even doing housework — you'd be surprised how time flies! I love them.
What's the most imaginative way you can think of to listen to an audiobook? Let me know in the comments
Hope you'll try TOXICITY.