For the 28 years I've lived in Northfield on the North Shore of Chicago, it's been a quiet place. The village doesn't have the cachet of Winnetka, the opulence of Lake Forest, or the population density of Evanston and Skokie (although most would say that's a good thing).
With the Forest Preserve on one side, and the Skokie Lagoons on the other, Northfield has a bucolic, almost rustic air. In fact, the remnants of a horse farm lie around the corner from me, and when my kids were young, we'd see mares trotting down Happ Road.
Over the years the Village has attracted traders, lawyers, and professionals of every stripe. We have a terrific school system that feeds into New Trier, a committed volunteer force of mothers who outdo each other in fundraising, and a reputation as a safe place to live. Especially Happ Road. All this… just 20 miles from the den of iniquity that is downtown Chicago.
It's not that violence and tragedy have escaped us. One of the first school shootings ever happened in neighboring Winnetka in 1988 when Laurie Dann shot six elementary school children, killing one. My son was in pre-school at the synagogue on Happ Road and I remember how they locked it down—no one could go in or out—for hours.
The parents of Ben Smith, the young white supremacist who shot 6 Orthodox Jews in the summer of 1999, also live on Happ Road. And while Northfield has escaped the recent wave of immigrants from Eastern Europe which changed the criminal landscape of neighboring Northbrook, there was a big scandal in the 1970's when Northfield's Chief of Police absconded with a pile of money. (We have a truly fine Chief of Police now, thankfully.)
Through it all, though, Northfielders remained polite, accepting, and tolerant.
But Northfield never counted on Chief Keef.
About a year ago, a home on Happ Road was rented (virtually across the street from Ben Smith's parents, as it happens) by the manager of rapper Chief Keef. For the uninitiated, the Chief, aka Keith Cozart, is a rapper who made a six million dollar deal with a recording company at the ripe old age of 16 or so. He is now about 19 and prides himself on his ties with the gangs of Chicago, especially the various Disciples. Keef started living in that house, less than half a mile from me. And everything changed.
I get why his manager wanted him away from Chicago. I mean, who wouldn't want to live in a safe community, away from the gangs, in an atmosphere where deer and rabbits roam your front lawn? His manager probably thought it would help the kid. Maybe even save his life—there were rumors he has serious enemies. The shooting kind.
I drive by the house several times a day.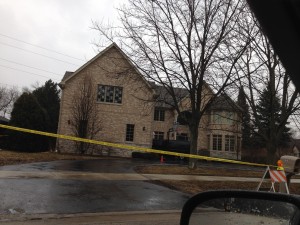 First there were the SUVs in the driveway. No problem. The kid has friends. Then there were the boys playing hoops in front. Even better—they're getting fresh air and exercise.
But then Keef's fans started to drive by, yell out his name, and honk their horns. And at night I would hear sirens blare on a regular basis. And the Northfield police, whose most challenging activity used to be lying in wait for speeders on Happ Road, suddenly had their hands full: DUIs, fights, weapons charges, kids doing 110 mph on the Edens, drug deals.
And now a shooting.
Police are incredibly tight-lipped. Someone was shot. They're in the hospital in stable condition. No one knows if Keef was involved, but he was in custody down at the Northfield police station, and it doesn't help that he instagrammed this photo a couple of days ago. That's an AK-47 his buddy is touting, btw.
The North Shore Regional Task Force has been activated, and Happ Road has been closed off, probably till the end of the week. (Really, guys? Would that happen in Chicago?) News helicopters buzz overhead—aerials are the only visuals they can record, and reporters are looking for man-on-the-street sound bites. Northfield is having its 15 minutes.
Okay. I'm a crime writer. I should know about these things. I deal with them on the page every day. But always from a remove. I'm the person behind the white picket fence whose mind goes to all the dark places of human behavior. But that's only in my imagination. On the page. Not in real life. Until now.
And you know what? I hate to admit it, but I don't feel safe.
PS Happ Road has reopened.