I was thrilled to get this review of Havana Lost in today's Chicago Tribune… in Rick Kogan's Literary Saloon. Btw, the photo was taken at 90 Miles, Chicago's best Cuban restaurant, in front of a mural depicting the restaurant owners in Havana Vieja. If they could go back.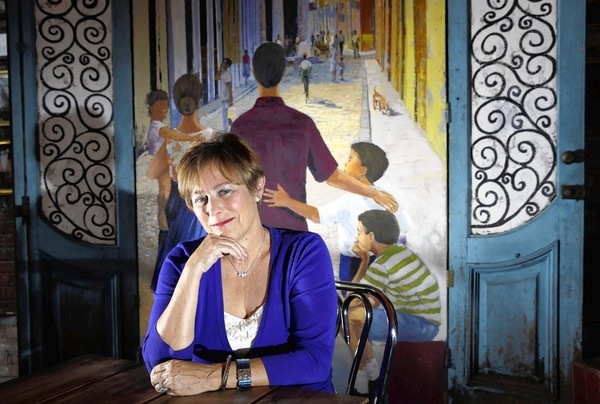 Libby Fischer Hellmann, author of the new novel "Havana Lost" at 90 Miles Cuban Cafe, 2540 W. Armitage Ave., Thursday, Aug. 8, 2013. (Michael Tercha, Chicago Tribune)
Libby Fischer Hellmann paints vivid portrait of a long-lost Cuba
August 30, 2013
 An intriguing note came tucked into the copy of Libby Fischer Hellmann's latest novel, "Havana Lost." The note explained, tersely, that this is Hellmann's first fully self-published book. This is a bold step for Hellmann, the author of 10 previous successful novels. But such is the rapidly changing nature of the publishing business.
"Frankly, with the exception of the production of 'Havana Lost,' which I delegated out to a great cover artist, and an interior book designer as well, there has not been any difference in the way I've approached publication," Hellmann says, expanding on her note. "It's been the same amount of pre-marketing, distribution of advance copies, ads and promotion. But the difference is that I'm in charge.
"And you know what? I like it. I've always been a Type A personality anyway, and I've always been interested in the business of books, so this was a natural evolution. Plus, I've been amazed (and flattered) at the acceptance so far. Fingers crossed it continues. It's been quite a ride. The most fun I've had in ages."
And so, here it is. "Havana Lost," surely Hellmann's most ambitious book, a sprawling novel that spans more than six decades and a number of countries and comes peppered with passions, love affairs, kidnappings, conspiracies, CIA and Outfit thugs, and, naturally, a pile of dead bodies.
It begins in 1958 in Havana, the country on the brink of revolution and Francesca "Frankie" Pacelli on the brink of womanhood. Her mobster father runs La Perla, a casino resort that "dripped luxury." She is engaged to a decent college kid until (in the first of the love/lust-at-first-sight encounters punctuating the book) she falls for a young revolutionary named Luis, flees from her parents, becomes pregnant and hides out in the hinterlands. But before the child arrives, she gets whisked back to the U.S. (Chicago, specifically) by her father's goons. Luis is lost to her forever.
Then, in a flash we are in Angola in 1989, Luis is a general in Castro's army and is part of his foolish attempt at international diplomacy. He is "a bit stooped, flecks of gray were threaded through his hair, and he needed glasses to read" but capable of drawing a map to a place of untold riches deep in the jungle; a map that will propel the book's final sections.
Hellmann keeps a relatively complicated plot moving swiftly, even finding time to comment, or have her characters comment on, geopolitical matters.
The third and final chunk of the novel takes place in contemporary Chicago, where Frankie has long been the first female head of a major crime family, the Godmother, if you will. Her daughter-in-law is a doctor here, and her granddaughter a spirited, socially conscious grad student.
Hellmann, a Chicagoan for more than three decades, is on very solid footing here, but her sections on Cuba are surprisingly and satisfyingly vivid.
"Yes, I did go to Cuba, for 10 days, and I'm glad I did," she says. "I loved being there. It was almost Proustian. I felt at home as soon as I deplaned. I'm not sure why, but possibly because I saw glimmers of the past in Cuba that weren't so different than life in the U.S.: tangles of electrical wires, abandoned plants and factories. She traveled there with her daughter and says, "I would love to go back. I felt as if I belonged."
She certainly belongs in the top ranks of Chicago writers and has long been among the most giving. She is mentor to many and is now eager to share her experiences in self-publishing (see libbyhellmann.com/six-steps-of-self-publishing).
She puts so much into "Havana Lost" that she deserves all the success she can get.

Rick Kogan is a Tribune senior writer and columnist.
"Havana Lost"
Libby Fischer Hellmann, The Red Herrings Press, 300 pages, $16.99