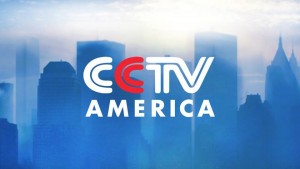 Remember when Ferris Bueller says to the camera "Life moves pretty fast. If you don't stop and look around for a while, you could miss it?" Well, I just had one of those days.
It started Monday evening with an email from a producer who works for CCTV America. What's that you ask? "CCTV News" is a global English language, 24 x 7 news and current affairs channel based in Washington, DC. It's one of 42 television channels produced and broadcast by China Central Television, the world's largest broadcaster with a reach of more than 1.2 billion people. The English channel, CCTV-America, can be seen in more than 100 countries and territories, including the US. I've heard them described as the "CNN of China," albeit with a tilt toward China in its editorial stance.
Anyway, they were doing a story on self-publishing and wondered whether I'd do a live interview with them Tuesday evening. Unfortunately, I happened to be teaching a workshop (on self-publishing) so I wrote back and said probably not.
The producer wrote back they could pre-tape it during the day. But I'm in Chicago, not DC, I said. No problem, they replied. They had facilities all over the country. And they'd send a car for me. As some of you know, I used to work in broadcast news myself, and I remember ordering cars for our guests. Never in a million  years did  I ever think anyone would send a car for me.
What could I say? I said yes.
Sure enough, little more than twelve hours later, they picked me up, took me downtown to 10 S LaSalle, where, on the 35th floor, was a tiny production house.  I mean it was small. The control room was average size, but the room I did the interview in was no larger than a closet. It contained a nice Chicago skyline background, lights, and one camera. It turned out this was a place that mostly does remote feeds to other TV stations and outfits when needed. Boy, have times changed.
The anchor/host was in DC, but through the magic of those earpieces– I always wanted to wear one since William Hurt told Holly Hunter in the film Broadcast News "What a feeling… having you inside my head! – and I did. They also told me to look at the camera even when I wasn't speaking because I would be on air in a two-shot.
Everything ran smoothly, we taped the interview, and then it was over. Less than 24 hours from start to finish.
So, yes, Ferris, I agree that life moves pretty fast. But even though fame is fleeting, what a trip to be on other side of the camera for a change!
Here's the interview. The beginning is slightly upcut, but I'm talking about the benefits of crowd-sourcing. Let me know what you think.