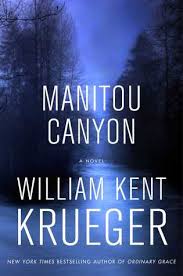 Eighteen months ago I interviewed my good friend William Kent Krueger on my Second Sunday Crime radio show —actually it was the show premiere. At the time he'd just started writing his 15th Cork O'Connor novel. It's now been released. It's called Manitou Canyon, so now seems like the perfect time to delve into what Kent and I discussed then.
A conversation with William Kent Krueger
It's always interesting talking writer to writer. We're all so different. How did Kent feel about the remarkable clean sweep he made with his stand-alone bestseller Ordinary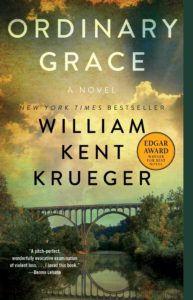 Grace? It won the Edgar, the Anthony, Macavity, and Barry for Best Novel, as well as the Midwest Booksellers Best Fiction award, the Goodreads Best Mystery & Thriller award, and the Dilys. Ever modest, he hopes his best is still to come, but he was gratified that the book touched so many people.
As far as his NYTimes best-selling Cork O'Connor mysteries are concerned, Kent is still discovering things about the character after more than 20 years of writing him. But Ordinary Grace let him do something wholly different. Set in Southern Minnesota during the summer of 1961, it's about a Methodist minister whose child is murdered. But it's really about what the tragedy does to his family, his faith, and the town.
How about the writing process itself? I struggle. It's the most difficult thing in my life. I'd rather do anything than start writing, and I do everything I can to put it off because it's so hard. Kent, on the other hand, can't wait to get up in the morning and start writing. It's a labor of love for him. Even when it's difficult, he's steeped in the beauty of language and deeply involved in a struggle to help readers share his vision. It's magical having a book accepted. It's amazing when it gets published. But it's the process of writing, the magic of words, that he loves best of all.
What comes first – language, character or plot,? It's typically the emotion – Kent is concerned with what he wants readers to feel in the often horrific situations he puts them in. He wants them to experience the shock and know the profound sense of the wrongness of a situation. He wants them to close the book and be terribly disturbed.
What about creating a paragraph. Does he focus on language, dialogue, internal monologue, all of them, or does he get it all out then go back and add elements later? In his experience the most important thing of all is that every paragraph, page, line, sentence and chapter has to move the story forward. You need to make a series of judicious choices about the right words in the right order, the right rhythm and pace. After twenty years as a writer you get a strong sense of how to draw on the most powerful and effective language. You have the speed you need to swiftly accomplish it. And the emotional side of things flows too. .
Does Kent ever get writer's block? Apparently, no. Never. Sometimes things don't turn out right the first time. Take, Manitou Canyon. He quite liked the first two chapters but they didn't have any excitement or pizazz. He had a new idea about how to open the book, so went back and rewrote it.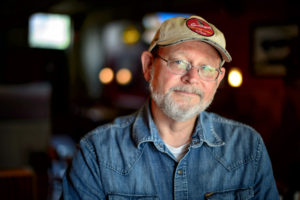 When did he know he wanted to be a writer? Always. As far as Kent can remember he was always telling stories, mostly to himself. And it was a long apprenticeship – he was almost 50 years old when he published his first novel, but he always knew he didn't want to do a job that sucked all energy out of him and left no space for creativity. For a few years he ran a scientific research lab, but the desire to be a writer never went away. He was always writing short stories, got a few published, had a go at journalism… but hated the editing, where you had to get rid of 1000's of words for no other reason than a piece was 'too long'.
Like many writers he suffered from a desire to write the next Great American Novel. And like most writers, it never happened. He has always loved Ernest Hemingway, read him when he was eighteen years old and fell in love with him. He spent a long and fruitless period trying to write Great Literature, with capitals. Tried to structure stories like Hemingway, which was a pretty stupid endeavor since Hemingway did it so much better. It was his mid life crisis that led him to write something someone might actually read, a mystery novel. But he was a slow starter there as well, since he never read many mysteries. He had to learn the structure, pacing, and suspense from scratch. Luckily he was a quick study.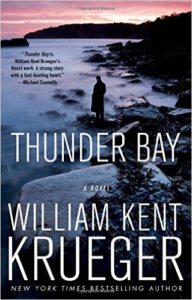 Kent's favorite Cork book is number seven in the series, Thunder Bay, partly because it's the only one he's written partly in first person narrative. Cork tells the story, and he feels he captured his protagonist's voice pretty well.
What does he find the hardest part of writing mysteries? It's the plot, which takes more time than any other aspect. The skeleton must be solid, the motivations in place. Plot has to be believable all the way through, as does every character, what they do and why. Then there's the essential literary sleight of hand, where you lay out elements for reader to solve, but also have to misdirect them to keep the interest and intrigue going.
If he could start over, what would he do differently? Just one thing: give the town the Cork books are set in a different name. The town's called Aurora, it's a real town, but the actual place is nothing like its fictional namesake. Which confuses the hell out of readers and fans who visit the place.
How does Kent feel about authors who are asked by a dead writer's Estate to create more books? He can understand that people might not want the character to end when an author dies, but he has reservations. How about very famous writers hiring other authors to write their books? Again he can understand it, when they're fine authors in their own right, but why, as a reader, would you buy a book that wasn't written by the author they love?
Does he have any advice for aspiring crime writers, knowing the state of the publishing market today? That's simple: graduate from college, get a job that pays the rent and medical insurance first! Write because it's what you love to do, whether you're published or not. Don't let criticism and failure throw you or deter you. Hang in there. Be true to that, and you'll write the stories you were always meant to write.
What's Manitou Canyon about? The story goes like this. When he's tasked with finding a missing man in Minnesota's Boundary Waters Canoe Area Wilderness, Cork is far from confident. He ends up vanishing into the vast wilderness himself, and in the end it's his family who unravel the mystery of the two disappearances. But there's more. Cork's fate, and that of hundreds of innocent folk, are also at stake.
Sound good? Grab a copy and let me know what you think…