While I'm temporarily on vacation, I know many of you women readers have careers in which we must speak publicly. If you're one of those women, read on!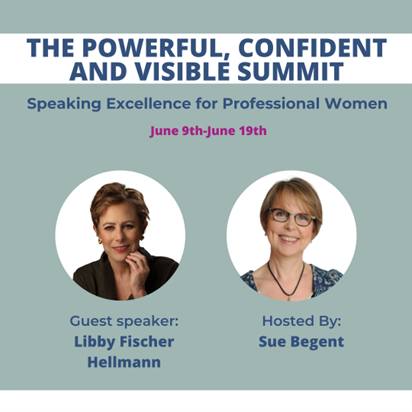 I've just been interviewed as part of an amazing panel of 21 experts on the topic of powerful communication and speaking for professional women. The interviews are AWESOME.
They include some of the most outstanding women in this field (plus a couple of men. Credentialed, TEDx speakers who have trained celebrities and been featured on TV. Women who have written best selling books on the subject. They KNOW their STUFF. (And me… for which I'm very grateful).
These 21 interviews constitute the
"Powerful, Confident and Visible Summit: Speaking Excellence for Women"
And it's COMPLIMENTARY for YOU as a member of my mailing list.
The focus is on you as a women entrepreneur as well as women in corporate who want to develop more presence, confidence and upgrade their speaking skill — especially if they want to give a TEDx talk, present in the boardroom or 'speak to sell' for their business.
Listen in
• To become poised, polished, and a powerful speaker.
• Feel confident and magnetic as the expert you are
• Be compelling whether your presentation is online or in-person
• Command a room in a powerful, yet feminine way.
You'll also learn how to
• Feel confident when saying your price or asking for a raise.
• Make best use of Zoom for business (It does much more than you think)
• And for our entrepreneurs – how to find those speaking gigs and get booked.
Twenty-one experts in the field of speaking and communication have shared their wisdom and it's FREE to sign up, so please join us!
The Summit Starts June 9th and runs for 10 days – 2 outstanding speaker interviews per day.
Know a woman who could benefit? Forward this email to her!
Don't forget to register!
Here's that LINK to REGISTER again 🙂
Warmly (from Tuscany),
Libby