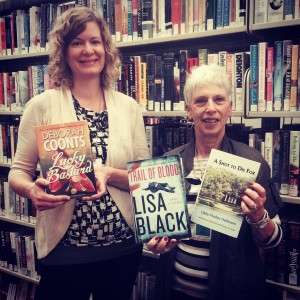 Just wanted to say thank you to Librarians and Sisters in Crime. For those of you who don't know, Sisters in Crime has a monthly "I Love Libraries" program in which libraries can win a significant grant from SINC for their library. All they have to do is send a photograph of books in their libraries written by Sisters in Crime members.
I was thrilled to see the books that the February library winner included in their photo. Hint: It's the book on the far right (the fourth Ellie Foreman mystery).
Thank you, Librarians! The love is mutual.