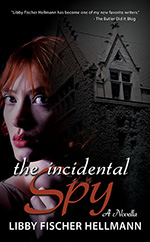 Hi, all. Now that the The Incidental Spy is out in print and ebook, I thought I'd tell you where I got the idea. This segment is part of an interview that I will excerpt all week on the blog.
In addition, there's a summary of wartime spies in the US that you might not know about over at Jungle Red Writers, where I guest posted the other day.
Questions? Leave a comment and I'll be sure to back to you. Btw, you can find the book on Amazon here and B&N here.