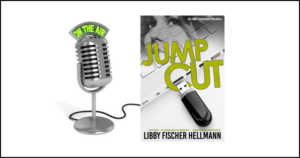 I've finally managed to do the interview I've always wanted to about the issues, research, and thinking that went into my book Jump Cut. It's all thanks to my Blog Talk Radio colleague Alex Dolan , author of The Euthanist and The Empress of Tempera. He's also the host of the 'Thrill Seekers' Authors on the Air program, and he invited me onto the show.
You can hear the whole thing right here, but if you'd like an annotated version, read on.
Ellie Foreman, politics, espionage and the state of the nation
We first talked about my Ellie Foreman mysteries, exploring why and how a Chicago video producer could find herself involved in espionage. Covering the ten year gap between my last Ellie book and Jump Cut, we looked at using the intimate first person voice to get into a character's internal perspective, pin down their point of view, and find credible reasons for her to get involved in a murder.
Then we delved into Edward Snowden's assertion that the US government has more potential to surveil us than we can imagine. And while there's no reward for being a whistleblower, at the same time, I'll wager Snowden never expected to become a virtual prisoner in Moscow.
If he comes home now, he'll be labelled a traitor and prosecuted by secret trial, and our government can do what it wants with him – he will never be free. However, I believe he should be pardoned because he initiated a dialogue we didn't know we needed to have. In fact, it's probably the most important dialogue of the 21st century. An articulate and smart guy, his motivations were honorable: he wanted us to know what our government is and is capable of doing, so we can make informed choices about our civil rights.
All this aside, I tried not to take political sides in Jump Cut. I did my best to stay objective. Liberal Ellie doesn't get everything she wants. She ends up where she started out, but wiser.
We talked about how Jump Cut (hopefully) shows a deep understanding of complex global dynamics (thanks Alex, for the vote of confidence). The dysfunctional relationship between the US and China plays into the plot, a conundrum from both sides that's made more complicated by our mutual interdependence. China owns huge amounts of US debt. If they call it in we're in deep shit. But they operate widespread state funded hacking. They oppress their ethnic minorities, especially the Muslim Uyghurs, treating them as terrorists. Unfortunately, the US has co-operated in one or two drone strikes in Uyghur territory organized by the Chinese.
Touching on my favorite subject (and Alex's): history, we explored how humankind keeps making the same mistakes time after time. The pattern of war…from Korea and Vietnam, to Afghanistan and Iraq, even though they do little except contribute to military coffers. Revolutions have a pattern too: Discontent leads to rebellion, governments are overthrown, dictators are kicked out, but their replacements are often just as repressive, or simply chaotic, like Somalia, Egypt, and Libya. It's both fascinating and terrifying.
We explored my attitude to research, born back in the days when I worked in journalism, particularly on the broadcast of the Watergate hearings at night. As a news junkie, I also listened to them throughout the day, and the immersive experience laid down a lifetime's fascination with the reasons behind why things happen. We talked about the changes in journalism (if you can still call it that) in the 24/7 news cycle. On the other hand, I still subscribe to the Washington Post, New York Times and Wall Street Journal. They're all still doing great journalism, as is Bill Moyers.
We touched on Sisters in Crime, an influential organization with 3500 members, whose objectives are to develop the voice of female mystery authors. Which still needs more balance. One 25 year project of theirs reveals reviews are still majoring on 75% male authors. It could be because reviewers don't like reviewing 'cozy' thrillers, which are the landscape many female thrillers still operate in.
I talked about how much I like the refreshingly raw Scandanavian noir novels, and how I'm a Danish TV junkie.
How it feels to finally get my feelings out there
As experiences go, it was satisfying. I could FINALLY outline my thinking on the issues I wrote about – not political issues per se but current events, and why it's important to know about them. Now it's off my chest I can relax and enjoy writing my next book.
And now, you know more about me than you probably ever wanted to know. But if you'd still like  more, here are some links to browse:
• Can you revive a series ten years later?
• Jump Cut: A preview
• A tour of Jump Cut locations
• The Invisible Uyghurs
• The Deep State two years later
• About Edward Snowden
And for light entertainment (ha) you can hear my interview with Danish author Sarah Blaedel, the queen of Danish crime fiction
Catch up with Alex Dolan's new book The Empress of Tempera
Thanks again, Alex. His new book, The Empress of Tempera, is coming out on September 13th. You can pre-order your copy now via Goodreads, Amazon, Barnes & Noble or Indie Bound. Check him out!