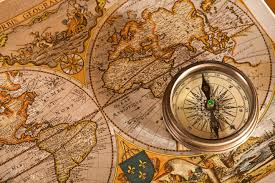 It's all Miss Lear's fault.
Linda Lear was my history teacher when I was a senior in high school. I was in Advanced Placement US history at a small girl's school in Washington DC, with maybe 15 girls in the class. I had already taken European history as a junior, and I enjoyed it a lot. But Linda Lear changed my life.
More than the bones of history

She not only taught us history, but historiography, the study of history by scholars with different, sometimes competing views of what really happened during seminal events. For example, I learned that there was an economic view of history; that events happened because of the state of the economy and how the various classes of society were doing at different points in time.
I also learned there was a psychological view of history, which depended on individuals with unique talents and/or personalities. And a political view of history that assumed events were the result of competing ideologies.
I quickly realized history was SO much more than facts and dates, and I fell in love with the subject. In fact I majored in it at college.
But Linda Lear taught me one other critical thing. Thanks to her I learned how to organize a paper and how to write. T-E-C was our high-school mantra: Thesis, Evidence, Conclusion. I used it then. I use it now. Had I not been given that formula, I doubt I would be a writer today.
After college I studied film in graduate school, and, perhaps not surprisingly, began my career in broadcast news, which, of course, is history in the making. After eight years I turned to other pursuits, but when I started to write, everything I'd learned at high school, college, and work came together and I hit the ground running. It makes sense, since an essay is a story, a news item is a story, and a novel is a story.
Always drawn to history
I am still drawn to history, if only because we humans tend to make the same mistakes over and over. We claim we have learned from history, but it doesn't show. Periods of intense conflict are followed by cycles of revolution, a pushback cycle of repression, which, hopefully, subsides after a generation or two.
Countries and societies experiment with democracy, find they can't make it work, and ultimately end up back in periods of intense conflict, after which the cycle begins all over again. In Vietnam the French taught us we couldn't win. We didn't listen. Afghanistan? The Russians showed us the way. We didn't listen. Oil in the Middle East? An ongoing litany of mistakes and aggression, all the more shameful because we could have used the dollars to concentrate on alternative sources of energy.
But that's what attracts me about history. I love to imagine an ordinary person in the middle of an intense conflict. What would they do? Do they prove to be a hero or a coward? What about their loved ones? How far will they go for their principles? They might have no principles, just a desire to survive and get by as best they can. Figuring out who my characters are, and how they will be affected by the times they live in, is one of my favorite things to do. The possibilities are endless.
Three historical novels down, more to come…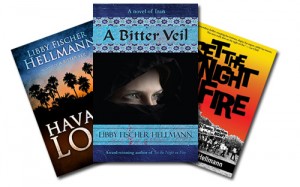 So, in addition to my contemporary thrillers, I've written three historical thrillers. A Bitter Veil tells the story of Anna and Nouri, both students in Chicago. When Anna marries wealthy Nouri and moves to his native Iran, their world is turned upside down by the overthrow of the Shah of Iran and the rise of the Islamic Republic. Life becomes more and more restricted, random arrests and torture become the norm, and Anna realizes she isn't free to leave.
Set The Night On Fire stars a young woman named Lila Hilliard. During the Christmas holidays she returns to her father's home to find the place on fire, with her father and brother trapped inside. It looks a lot like someone's trying to kill her. Part thriller, part historical novel, and part love story, the middle part of the novel is set in 1968 Chicago during the riots at the Democratic Convention, and explores six young people (two of whom are Lila's parents) and how they reacted to the times.
Havana Lost is a three-generational sage that explores the life of mafia princess Francesca Pacelli, who becomes the first female Mafia Chief in the US. When we first meet her during the Cuban revolution, the willful 18 year old flees her ruthless Mafia-boss father to run away with her lover, a rebel who's fighting with Fidel Castro. Her father uses torture and blackmail to search for her.
The Incidental Spy in September
After Havana Lost, I thought I was done. But I wasn't. Last year I wrote a novella about WW2. It took me years to drum up the courage to start it–there has already been so much written about the period, and so eloquently, I kept wondering what I could add. Happily, though, a story came to me and I followed where it led. It'll be out in September, and it's called The Incidental Spy. Here's a sneak peek:
Young Lena Bentheim is forced to flee Nazi Germany for Chicago in 1935, leaving her family and boyfriend behind. After learning English, she eventually finds a new life as a secretary in the Physics Department of the University of Chicago. She meets and marries another German refugee scientist and has a child. Then tragedy strikes, and Lena is forced to spy on the nuclear fission experiments at the University of Chicago.
You can find it here in print. It will go on pre-order next week.
What's next?
And after that? I visited the UK last year after Christmas, and one of the highlights was a trip to Bletchley Park. You can read some of my posts about Bletchley here. It's an amazing place, and, as you might suspect, I've been inspired to write a novella from the British side of WW2 espionage.
What else? I used to imagine myself living during the Middle Ages. I wanted to be a lady-in-waiting for the Queen, or a Duchess, but I had the sneaky suspicion I wouldn't be in that class. I figured I would be a peasant girl, carrying water from the well to the Master's home. Strange, the way we see ourselves in history. There's loads of inspiration in that period. But there are only so many hours in the day, days in a year, years in a lifetime…